2015: The year in review – February
In the lead up to the end of the year we take a look back over the last twelve months and see what got our attention in 2015.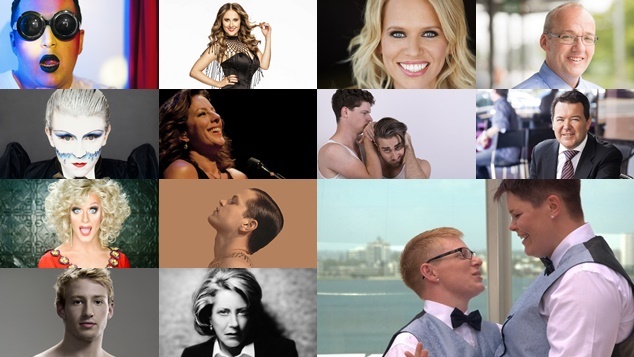 February 2015
An image of a gay Russian couple won the World Press Photo of the Year competition. The picture was part of a larger work by Danish photographer Mads Nissen that focused on homophobia in Russia.
In China a social media campaign was launched to reduce homophobia.
New research showed that smoking was a greater risk to people who are HIV positive.
Here in Australia Australian Marriage Equality launched a new telephone campaign that allowed supporters to send personalised phone messages to local politicians.
Labor MP Martin Folley announced that he'd changed his mind and was now a supporter of marriage equality, and a few days later Liberal Senator Dean Smith switched positions too.
The AFL showed their support for the LGBTI community by introducing a Pride match during the pre-season. The Swans beat the Dockers 65 to 56.
Local couple Hayley and Chelle took advantage of the British marriage equality laws and got hitched at the UK consulate, celebrating their nuptuils with radio station Hit92.9.
The most talked about couple in Perth were a little girl and a diver, The Giants was the biggest spectacle ever seen in the city.
February also brought the sad news that popular Perth night spot Deville's Pad was to close it's doors for good.
Fringe World was full swing in February, we chatted to Tina Del Twist, and James Welby told us about HIV inspired dance work. We also were amazed by the brilliant Bryony Kimmings.
Jeffrey Jay Fowler and Chris Isaacs scored a hit with their show 'Fag/Stag', while a show from American performer Christeene was one of the most talked about at Fringe World.
Speedo clad cabaret sports star Matthew Mitcham brought his show 'Twists and Turns' to Perth for the second time.
One Saturday night at Connections was full of surprises when cast members from La Soiree and East end Cabaret turned up for some impromptu performances.
The LGBT community also spent a day in the park with Pride WA's popular event Fair Day. Trans rights activist Calpernia Addams was guest of honor.
Bianca Del Rio chatted to OUTinPerth ahead of her Australian tour and Perfume Genius talked to us about his new record ahead of his appearance at the Perth Festival.
Mardi Gras started announcing their special guest and we chatted to the inspirational Panti Bliss.
'The Real House Wives of Melbourne' returned to our TV screens and OUTinPerth's Leigh Hill chatted to Jackie "Shine Shine Shine" Gillies.
Sarah McLaughlin played a sold out show at The Astor Theatre. Country singer Beccy Cole chatted to us about her up-coming autobiography.
Sportsbet were criticised for taking bets on what Caitlyn Jenner's new name would be.
Joel Grey, who starred in the film 'Cabaret' opened up about his sexuality, saying he didn't really believe in labels but if he had to pick one he'd be a gay man.
There was some sad news when singer Lesley Gore passed away, and Visage singer Steve Strange also passed away unexpectedly.
Take a look at what happened in January