500,000 take to the streets for Sydney Gay & Lesbian Mardi Gras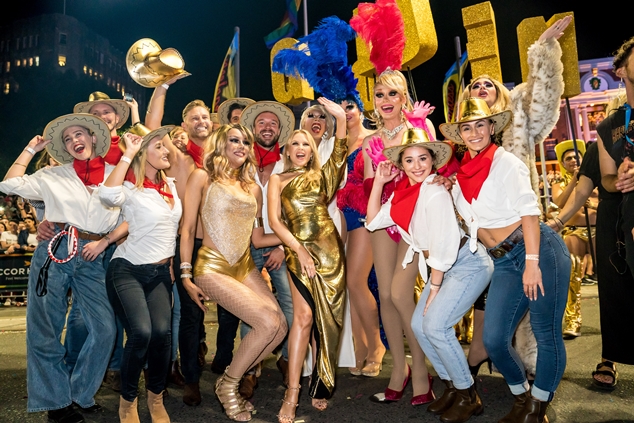 Sydney Gay and Lesbian Mardi Gras celebrated 41 years of fearlessness this weekend, drawing an estimated 500,000 revelers to the rooftops, balconies and paths of Oxford Street.
This year's theme of Fearless could be seen throughout the almost 200 floats that proudly walked the annual pilgrimage, calling on the LGBTQI+ community to "be strong, live brave, be proud and celebrate fearlessly."
Reflecting on the parade, Mardi Gras CEO Terese Casu said "people from all around Australia came together on this glittering night to witness a colourful spectacle of protest and celebration."
"In total there were 197 groups represented in the 2019 Mardi Gras Parade, sharing a stunning array of creative concepts, with many incorporating the Mardi Gras theme Fearless.
"After last year's Mardi Gras Parade celebrated its 40th Anniversary by looking back at our rich history and the pioneers of change that made it all happen, the 2019 Mardi Gras Parade was a moment for LGBTQI people, young and old, to come together and move fearlessly into the future.
"This year we reflected on issues that are still faced by the LGBTQI community. Sydney's Indonesian community group Selamat Datang GLBTIQ brought to light the struggle for equality that people in other parts of the world face. Trans Australia Pride marched proudly towards a future in which trans acceptance and equality is a reality for all, while youth support group Twenty10 were a sea of fluorescent colour, a bright and shining hope for the years ahead.
"And of course, having LGBTQI icon Kylie Minogue join us for a special Parade tribute on Taylor Square, complete with 45 Kylie Minogue dancers and drag queens, was a highlight that many will remember," said Casu.
The party continued into the wee hours of the morning, with more than 13,000 partygoers heading to the official Party in Moore Park. The massive spectacular featured music and entertainment from pop star Kim Petras, Scissor Sisters' Jake Shears, and ballroom legend Leiomy Maldonado, as well as local icons PNAI, Courtney Act, Paul Capsis and the fabulous Briefs Factory.
On the eve of the 41st annual Parade, Sydney Gay and Lesbian Mardi Gras also announced that their bid to secure the hosting rights for WorldPride 2023 had received a $192,000 funding boost from the NSW Government.
A successful bid would see Sydney become the first destination in the Southern Hemisphere to host WorldPride, the marquee international lesbian, gay, bisexual, transgender, queer and intersex (LGBTQI) pride event.
WorldPride 2023 would coincide with the 45th anniversary of the first Mardi Gras Parade.
OIP Staff