Soundtrack to Your Life with Marika Aubrey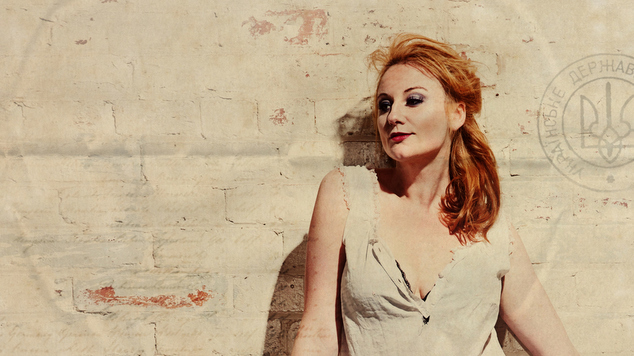 Performer Marika Aubrey chatted to OUTinPerth about her cabaret show 'Last of the Red Hot Mamas', which is all set to shake up His Majesty's Theatre. She also told us which songs would feature in the soundtrack to her life.
Tell us about your show, 'Last of the Red Hot Mamas'.
This is a jazz cabaret show that weaves the story of Sophie Tucker who was a star of vaudeville, the story of her career but also a lot of personal anecdotes from my family who are from a Ukranian background and Sophie Tucker was actually born in a neighbouring village to my great great grandfather. SO it interweaves these two parallel storylines, one ending with fame and fortune on the vaudeville stage and the other ending at His Majesty's Theatre in Perth.
What inspired you to take up that story? It's a pretty unique premise for a cabaret show.
My friend Kate Ceberano and I were doing South Pacific, we were in Perth recently with that show, actually, although Kate wasn't with it in that incarnation. And she is the artistic director of the Adelaide Cabaret Festival and we were just talking about ideas for shows and she knew that I made work and was chatting to me about it all and she said 'I've always been amazed that no one has ever done a Sophie Tucker show because she was such a trailblazer for women in entertainment, and she has such a sassy and baudy stage persona and had an incredible life and I'm just astounded no one's ever done a show about her.' I didn't really get hooked into that until I went home and Googled her and found out that she is originally from Ukraine and in fact was born in the same year and in very similar circumstances to my great grandfather because then I saw how it could be a show that I could personalize and I could create quite a storytelling show from that.
And you're performing it in Perth for the first time!
Yeah, it's never been to Perth. We've done Adelaide, and Sydney and Melbourne but this is the first time for Perth, so I'm really excited. I loved being in Perth for South Pacific late last year.
How has the show been received so far?
Beautifully. I think the nicest thing about this show is that it gets everyone talking about where they came from and other stories in their family and I often get a lot of people coming up to me afterwards and thanking me but also then telling me about something in their family that happened or similar stories from their mother or their grandmother. I really cherish that interaction because it means the show's working, it's resonating with people and I think in Australia we all come from somewhere and we all generally have these interesting stories. Shows like 'Who Do You Think You Are?' on SBS and things like that are so interesting and people really enjoy hearing those adventures and those joys and those tragedies that we all have in our family history. Apart from it being a really entertaining jazz show I really enjoy that storytelling connection and that people find that strength of memory very important.
The Soundtrack To Your Life:
First Kiss?
'Time of Your Life' – Green Day. That was very high school for me.
Struttin' Down the Street?
'Dressed in Love' – Jennifer Hudson
Big Break up?
'Breathe (2AM)' – Anna Nalick. I bet you that's the easiest one for people to remember. That's the one you listen to on repeat [Laughs]. I have a mix tape and I give it to friends when they break up with their partners. Because it's got all those ones that you can just sit at home and cry and get drunk to. [Laughs]
Inspirational Montage?
'On Top of the World' – Imagine Dragons. I love that song. It's my jogging song and it's my get the blood flowing and the inspiration, montage song at the moment.
Fist pump moment?
I'm going to pick the song that I walked down the aisle to because it was a big dramatic moment where I walked in some doors and it was like standing on the edge of a precicipice about to go into this new phase of my life and it was 'Just Say Yes' by Snow Patrol. I walked in on the big build in the song.
Funeral?
'Love is Everything' – k.d. lang
You can catch 'Last of the Red Hot Mamas' as part of Cabaret Soiree from the 25th to the 27th of September. More information and tickets available here.
Sophie Joske
Image: Kurt Sneddon