Review: Meow Meow's Little Mermaid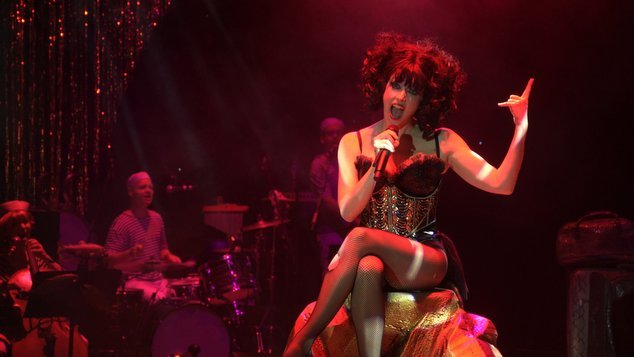 Meow Meow's Little Mermaid | Octagon Theatre | Til Feb 28
Melissa Madden Gray's CV is formidable. While some of her many talents are on display in 'Meow Meow's Little Mermaid', her astounding vocal technique and her impressive bodily awareness for instance, other talents remain hidden. Madden Gray studied law and feminist theory, is a graduate of WAAPA, she's fluent in German and has worked with so many brilliant people it would exhaust my word count to mention them all. Madden Gray's comedic gift and her subversive cabaret are united in her deranged torch-singer persona, Meow Meow, for which she has received international acclaim.
'Meow Meow's Little Mermaid' isn't quite a one-woman show, but it's close. Meow Meow blisters her way through original compositions by Kate Miller-Heidke and Megan Washington, throwing in some pop tunes with more than a hint of irony. As Meow Meow oscillates from the coquette to the vamp and back again, the five piece band carry the bombast of a brassy show tune only to strip it back to the melancholy ambience of cello when required. The dreamlike set design is used to great comic effect by Chris Ryan, who is strapping but ridiculous as Meow Meow's prince.
Madden Gray knows exactly how to foster an intimacy between herself and her audience: she indulges in a bit of crowd surfing. Meow Meow's dotty monologues recall Jennifer Saunders to great hilarity, and she doesn't pull punches when it comes to emasculating some of the more eligible audience members. As a performance artist she undermines the conventional response to this rather trite fairy tale, revelling in the dark fantasy and self-mutilation of her chosen myth. In exploring the depths of human eros, Madden Gray mirrors just how depraved some of us can become in the pursuit of another's affections, and what excellent entertainment this proves to be.
Amber Gempton
Meow Meow's Little Mermaid is at the University of Western Australia's Octagon Theatre until Sunday 28th February. Tickets available from Perthfestival.com.au.