A Beginner's Guide to: Charlie Hunnam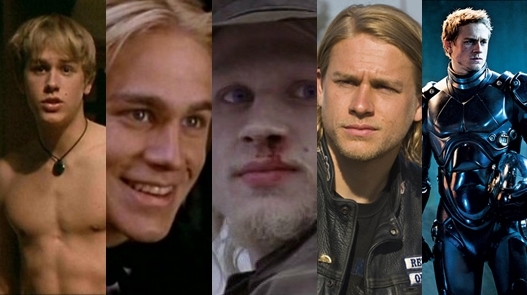 British actor Charlie Hunnam has come along way from his breakout role in the original 'Queer as Folk'.
He's gone on to star in 'Sons of Anarchy' and now has a big screen action role in 'Pacific Rim'.
Hunnam is one of many British actors who have found success in America, convincingly donning an American accent to take on the lead role of Jax in the popular TV series 'Sons of Anarchy'. Alongside his vocal transformation the 33 year old actor has also physically transformed, so much that many people don't recognise him as young Nathan Moloney anymore.

Hunnam got his first screen role in the British kids show 'Byker Grove', but his big break came when Russell T Davies cast him as 15 year old Nathan Maloney in the original 'Queer as Folk'. The mini-series was later remade in America and ran for five year with Hunnam's character renamed Justin. For the US version the character's age was also increased to seventeen. The first episode of 'Queer as Folk' was folk was incredibly controversial for its depiction of a 15 year old in a sex scene. It's never been shown on Australian free to air TV.
After the success of the controversial series Hunnam took a role in the best forgotten British film 'Whatever Happened to Harold Smith?' He soon headed of to the USA to try and make it big in Hollywood appearing in a series of TV shows that never went anywhere including 'Young Americans' and 'Undeclared'.
Some success in feature films came when he was cast in the thriller 'Abandon' opposite Katie Holmes who was staring in 'Dawson's Creek' at the time. He scored other films roles taking the lead in 'Nicholas Nickleby' where after years of living in the US they had to bring in a dialogue coach to help Hunnam regain his British accent. He scored a small part in 'Cold Mountain' and then took on the independent film 'Green Street' that focused on the world of football hooliganism.
Hunnam's biggest role though came in 2008 when he was cast in the lead role of the FX series 'Sons of Anarchy'. The show is about an outlaw motorcycle gang and it's now heading into it's six series. As Jax, the step son of the leader of the gang and second in charge Hunnam is a tough character who is always trying to do the right thing, even though he's surrounded by drug dealers, arms dealers and other criminals.
This week Hunnam returns to the big screen in the blockbuster film 'Pacific Rim'.   The latest film from Guillermo del Toro, the director of 'Pan's Labyrinth', 'Hellboy' and 'Blade'. The sci-fi film is set and the near future and sees giant robots fighting massive sea monsters. Can Hunnam make the transition to big screen action hero?  

Images: Queer as Folk, Nicholas Nickleby, Cold Mountain, Sons of Anarchy, Pacific Rim
Update: 25-09-16 The image was updated to correct an error.