A Beginner's Guide to Khan Chittenden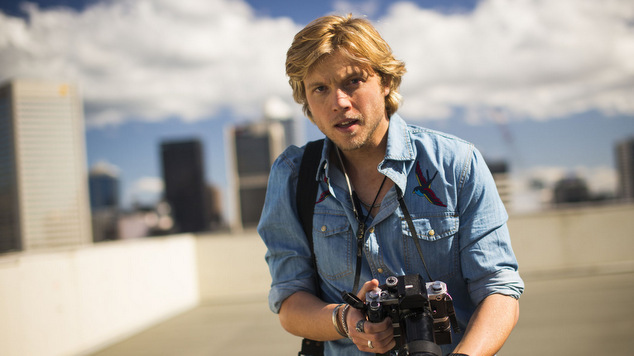 Khan Chittenden returned to Australian TV screens last night playing the attractive photographer Nick Trumpet in 'Paper Giants: Magazine Wars'.
The ABC mini-series is the sequel to the hugely popular 'Paper Giants: The Birth of Cleo'. This time round the story focuses on the battle between 'New Idea' and 'Woman's Day' and their combative editors Nene King and Dulcie Boling in the late 80's and early 90's.
In the first episode Chittenden's photographer character Nick Trumpet hooks up with new reporter Beth Ridgeway. Nick later tells Beth that he likes 'all the fruit in the basket' and while she's an orange – he also likes apples. At the end of the first episode Beth catches Nick in a passionate embrace with a male co-worker. Apparently next week's episode expands upon Beth and Nick's storyline.
'Paper Giants: Magazine Wars' has an encore screening on Thursday June 5 at 8:30pm on ABC1, the series concludes on Sunday night.
A Beginner's Guide to Khan Chittenden
Khan Chittenden moved to Perth from New Zealand when he was eleven, and later studied acting at the WA Academy of Performing Arts. Here's some of his previous work you might have seen.
Khan Chittenden's first big TV role was in 2005 on the teenage series 'Blue Water High' as Dean 'Edge' Edgely. The series focused on students at a high performance surf academy.
Chittenden was of the few actors in the cast who had any previous surfing experience prior to being cast in the series.
In the film 'Clubland' (2007) Chittenden plays Tim, a 21 year old man embarking on a romance with the beautiful Jill (Emma Booth). The only problem is his dominating mother played by Brenda Blethyn. The film got rave reviews at it's world premiere at the Sundance Film Festival and became the first Australian film to get an opening on the USA's Independence Day Weekend. Outside Australia the film was retitled to 'Introducing the Dwights'.
In the Fox8 series 'Dangerous' (2007) Chittenden portrayed Dean, the leader of a gang who partied hard, love drag racing and made their money through ram raids. Brooke Satchwell played opposite as a journalist writing about crime, while Joel Edgerton was a Detective trying to catch the criminal crew.
In 2010 Chittenden returned to Perth and starred opposite William McInnes in the play 'Equus' for the Perth Theatre Company. Taking on the role made famous by Harry Potter actor Daniel Radcliffe in the West End and on Broadway, the actor was required to perform a large portion of the controversial play naked. Both Chittenden and McInnes earned rave reviews for their performances.