A Feast for the Eyes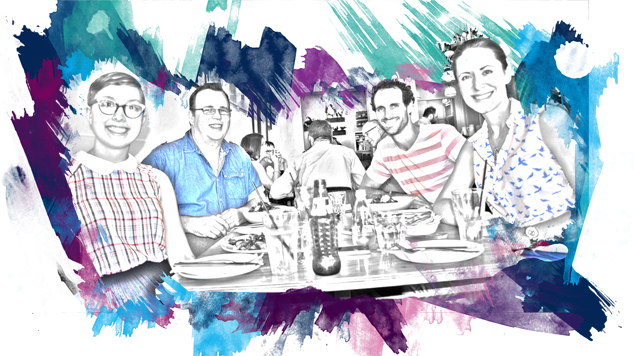 Black Swan State Theatre Company's upcoming play 'Dinner' has a unique premise: it is set over the course of one dinner party, in real time. No scene changes, no leaps in time, just satirical social commentary complete with chic costumes, a waiter and real food. We (OUTinPerth editorial staff Graeme Watson and Sophie Joske) felt we should join in the intrepid spirit of 'Dinner' by joining cast members Stuart Halusz and Rebecca Davis at Bivouac for dinner.
After setting our respective smartphones on the table to record the interview, the conversation quickly turned to how theatre, too, is adapting to modern times. "Styles of acting are changing all the time, and approaches to and techniques of how to get into a character or how to create a character, how to explore a story, there's different ways and different processes, but ultimately it's the same thing." Halusz said as he perused the menu.
That said, the paper script remains firmly in its place as an acting tool. "You don't see anyone with their iPad and a highlighter" Watson said. "No," Davis laughed. "Maybe for the next generation that come through." "In those moments where you're mid-scene and you chuck your script to go and do something physical and do something physical you wouldn't want to throw you iPad across the room." Halusz chimed in.
In this modern age where trends move faster than fingers can tweet, artistic forms including theatre are continuing to have to prove their relevance to an audience with more entertainment options than ever. "There are lots of great contemporary playwrights writing great current plays on current topics, but nothing that reactive, immediately because you have to go through the playwright process, you have commissions and that sort of thing. So for a big company, you kind of have to pre-empt some things… Sometimes there might be a really current topic but we can't actually stage anything about that until a year later." Davis said. It's a challenge for both playwrights and theatre companies who program a season up to a year in advance.
There was a brief interlude in the chatter as the party ordered food. The mezze board, complete with pickles and hummus for Davis, raw zucchini pasta for Watson, calamari for Halusz and gnocchi for the journalist. Soon, the conversation turned to satire. Is this a difficult genre for an actor?
"I think what I've found, particularly with this play, is to approach it with a real sense of honesty and truth, initially… If you go into a play thinking 'I'm going to play it as comedy or satire' then you've kind of killed the comedy, because you'll overplay it. So I think if you come in with a sense of truth and honesty and simplicity, then you find little moments that come through that are very very funny. I think the play is very well written, I like that too. So there are some really poignant moments." Davis said.
"I think the big danger with staging satire is allowing yourself to not project onto the audience. Just stage it and let them take it as is, and not be worried that they won't accept that as satire." Halusz said.
Both Turner and Davis are experienced in performing classic and new theatrical works, having previously appeared in Black Swan State Theatre Company's production of 'The Importance of Being Earnest'. Halusz explained that when performing a new work, there are no previous performances or the kind of catalogue of interpretations that come with a classic work, so it's a chance for an actor to have a truly fresh take. "With a new work, there's nothing to compare it to, it's brand new writing. It's kind of liberating in a way. It's a little bit scary, but it's great because there's not this weight of expectation. There's a different expectation, of course" Halusz said.
Another element of 'Dinner' that makes it unique is its creative team. "We've got Trent Suidgeest lighting dinner so you're guaranteed a beautifully lit set." Halusz said. "He's designed the set as well, it's stunning." There's renowned local composer Ash Gibson-Grieg on sound design and composition. For the costume design, Black Swan State Theatre Company has joined the forces of India Mehta and local designers. "It's the first time they've brought in local fashion designers to actually design a piece for the players. It's brilliant, I love it, and more should be done like that." Davis said.
The lavish set and costumes are set to bring out one of the fundamental themes of the play, which Halusz explained "is looking at the notion of excess and consumption in society… the aggregation of social and economic responsibility for society, class structure and all that kind of thing." If this dinner was anything to go by, 'Dinner' will certainly be a production like no other.
'Dinner' is at the State Theatre Centre from March 14th to 29th. Tickets available from www.bsstc.com.au
OIP Staff