A Guide to Eurovision 2013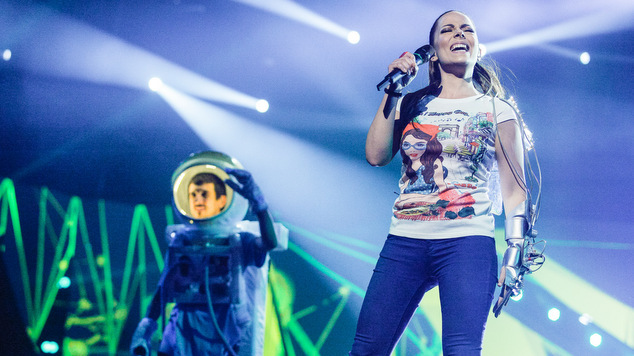 Eurovision has its final showdown tonight, as twenty six nations go to battle for the cheesiest music prize in the world.
Over the last two nights thirty three European nations have performed in two heats. Only twenty nations progress to the final competition tonight. There they will be joined by six other competitors, Europe's 'big five' who automatically qualify – England, Spain, Italy, France and Germany and the host nation Sweden.
Sweden won the competition last year with Loren's song 'Euphoria' which went on to be a worldwide hit, including here in Australia where it reached number thirty six of the ARIA charts.
In the sixties and seventies Eurovision songs regularly became chart busters and the careers of performers like Cliff Richard, Bucks Fizz and ABBA owe some their success to the competition.
What to look out for tonight
Among the favourites to win are Anouk from the Netherlands with a tune about birds flying over rooftops, Denmark's Emellie DeForrest who comes across a bit like Taylor Swift meeting a marching band and Hungary's Bye Alex who are possibly the first hipsters in the competition.
For the last few years Ireland have been represented by the ridiculous duo Jedward, sadly there not here this year but their support act Ryan Dolan will be presenting his tune 'Only Love Survives' which comes with hot shirtless tattooed drummers.
One of the most unique acts in the running is Romania's Cezar who is an opera singing, stilt wearing and gothic themed techno act.
The queerest competitor is Finland's Krista Siegfrids; whose song 'Marry Me' features a surprising same sex kiss at the end. In response Turkish television has dropped the broadcast of the Eurovision finale.
What Acts To Mourn
Sadly some of the most interesting acts in the two semi-finals failed to make it through. So when you tune in tonight you won't get to see,
Slovenia's Hannah who had a very tacky dance tune with 'Straight into Love', but three quite good looking backing dancers eased the pain. The Croatian entry Klapa s mora which was like the five tenors singing a folk tune, Montenegro's hip hop astronauts and dub-step dance number (pictured) – so bad, it was good. Serbia's crazily dressed trio of girls also failed to make the cut.
On the second night, Latvia's PeR were dropped, their silver jumpsuits, boing-boing dance moves and stage dives failed to impress the voting public. San Marino's Kate Bush inspired number from Valentina didn't make the grade, much to the disappointment of SBS host Julia Zameiro, and thankfully Macedonia's techno Gypsy Queen Esma was also left behind.
The Eurovision Finale airs on SBS from 7:30pm
Image: Denis Satchel (EBU)