Gin soaked cabaret with a 'Mother's Ruin'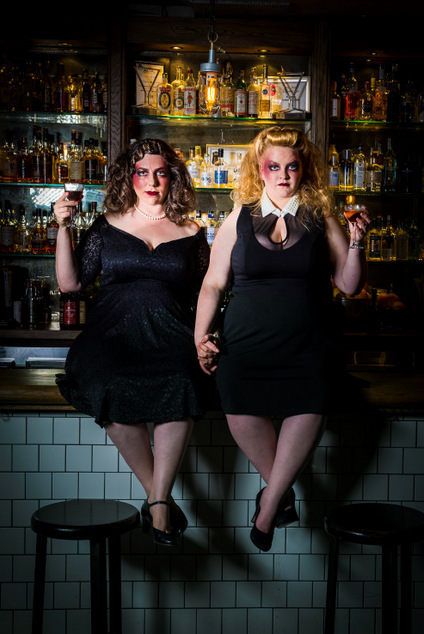 Mother's Ruin: A Cabaret About Gin arrives at Fringe World this week.
This show has been selling out at fringe festivals across the country and tickets to their Perth and Geraldton shows are expected to be quickly snapped up.
Starring Maeve Marsden and Libby Wood, the show takes it name from a phrase that arose in the 1800's when after gin was suggested as a medicine for women, the birth rate in London dropped dramatically.
We chatted to performer Maeve Marsden about gin and all the places it can lead to.
Is Casablanca's "of all the gin joins in all the towns in all the world" the most famous gin quote of all time? 
It might be the most famous quote of all time, but our favourite is "The only day I ever enjoyed ironing was when I accidentally got gin in the steam iron." – Phyllis Diller
What have you learned about gin while performing this show?
Gosh, we have learned so much about gin. For every story that made it into the show, there are three other weird facts or strange stories we've unearthed.
We're those annoying nerds at the bar now; you order a drink and we're all "DID YOU KNOW…" It's been really interesting to see how much a simple thing like a drink has been influenced by politics, colonialism, invasions, war…
The gin we drink now is the way it is because of so many shifts in history – researching the show really made me think about how much food and drink is influenced by society and vice versa. But I can't tell you all our facts and tales because that would spoil the show!
How did the idea for this show come up?
We were inspired to make the show while drinking gin, of course. Elly Baxter (The Ginstress) and I were drinking gin at the Sydney Festival launch a couple of years ago and we started chatting about its history.
She's been researching it for a few years and I've been making cabaret and we got excited about what wonderful bedfellows gin and cabaret are. She said "mother's ruin" and we just knew it was a show title.
We assembled our little team, started researching (which included a lot of reading and, yes, drinking) and then started to write the show. The rest is history!
Have many songs been written about gin, Sloe Gin by Dream Mclean was all we could think of.
There are loads, and indeed many great songs that we couldn't squeeze into the show. The songs in the show with gin references include That Woman's Got Me Drinking by The Popes, Misery and Gin by Merle Haggard, You Know I'm No Good by Amy Winehouse and Gin House Blues which loads of artists have sung, but we love the Nina Simone version.
Some of the songs in the show aren't about gin but they link into the stories we're telling, and some are well known songs where we've rewritten the lyrics. I think gin has a special place in pop culture as it has such interesting cultural connotations. It's associated with women, with the Queen Mum, drunk and lonely housewives, with prohibition etc etc. So there are a lot of songs about it!
What's the most embarrassing thing you've done after a night of gin drinking? 
Ha! I'm not sure I want that committed to print! I suffer from a condition I've named Extrovert's Remorse™. This is basically the experience many outspoken extroverts have when they wake up after a night of socialising (and yes, drinking) and remember all the outrageous things they've said and done.
I'm always putting my foot in my mouth. Apparently Libby, my co-performer, walked around Dublin doing an Irish accent after spending three hours at the Gin Palace, and if you've seen our show, you'd know she is NOT good at accents.
Oh and a while ago I got drunk enough to kiss a man…won't be making that mistake again.
In the future, what unappreciated drink should have more cabaret shows written about it? 
People have suggested sequels about whisky, rum, champagne…. I'm not sure about another booze cabaret, I want to have a bit more fun touring this one first!
I think the beauty of cabaret is how versatile the form is, how it uses storytelling and humour and music and politics and ridiculousness to communicate with audiences. There are no rules and cabaret really allows us to explore themes, ideas and stories that fascinate us and convert them into wicked fun shows.
Mother's Ruin: A Gin Cabaret is playing at Funtavia in Geraldton on 10 & 111 February before arriving a Noodle Palace on 14 February. Book tickets at Fringe World.   
Graeme Watson