Absinthe is amazing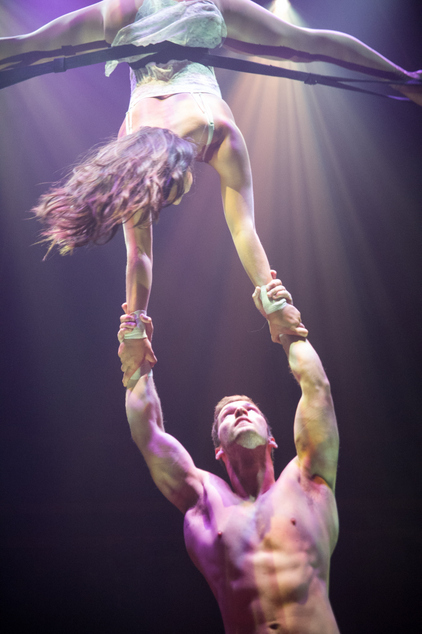 If you liked La Soiree at Fringe World, you'll love the latest circus tent housed show filled with circus performers, burlesque, comedy and cabaret.
'Absinthe' have put up their Speigeltent on the back-lot of the Perth Arena and opened their doors for business with a variety of eye opening performers from around the globe.
The show is certainly for the over 18's only and it pushes the boundaries of political correctness and brings up many topics that are beyond the realms of polite conversation.
Absinthe is wild, unpredictable and very scintillating. The show is filled with many amazing feats, a truckload of talent and may have the highest quota of very good looking people seen on a single stage in quite some time.
Absinthe is hosted by The Gazillionaire, a man with a massive fortune who has found the best performers from around the globe.
As the host he knows no limits, quickly proclaiming who in the front row audience was gay, who was a lesbian, and who voted Liberal. He didn't hold back, launching into a detailed monologue about the sex lives of the people before him – if you've bought front row seats, be prepared.
Joining The Gazillionaire is his assistant Abby Bobbins, a quirky sex obsessed girl with a special ability to bring a story to life.
The show opens up with Oleksander 'Sacha' Volohdin who carefully balances upon a chair, then two chairs, before upgrading to three chairs. Suffice to say by the time he reaches the top of the Speigeltent he used more than a regular dining set.
When you head home after the show you'll look at your dining room chairs and be tempted to have a go – he makes it look so easy.
Banquine from the Ukraine features four gymnasts who create a variety of human pyramids, they display their feats of strength while doing shots of vodka. The American duo Straps (pictured) perform an intricate and sensual love story in the air.
One of the highlights of the show was a burlesque number performed by The Green Fairy (Australian Karla Tonkich). Her number was choreographed by award winning burlesque artist  Julie Atlas Muz from The Freak and the Showgirl. It's impressive what a girl can do with a giant balloon.
There's no shortage of very good looking muscular men sans shirts doing amazing feats in this show but one that really stands out is duo Los Dos Tacos. Incredibly talented and very handsome. Hailing from the Mexican quarter of Minsk, Allaksandr Yurkavets and Andrei Sizonenka swing,flip, somersault and fly through the air with precision and speed.  As the duo began their act Ally Bobbins gave fair warning, "If you're in the first few rows – don't stand up – you'll get kicked in the head!"
Russian ballet duo Ivan and Ivana Checkov-Jones from Russia performed a comical ballet, while Germany's Lyra (Cavea Aurea) featuring Laira von Bongard and Luka Clayburn delivered an incredibly sensuous sapphic display on the aerial hoops.
Polish duo Duo Creative starring Michal Nowosadko and Zbigniew Sobieralski seemed to defy gravity with their act filled with strength and balance. If you're after some inspiration to get you back to the gym, these boys show you want strength and muscles can really achieve.
The final act was The Frat Pack from Las Vegas who clad in tuxedos took to the high wire above the stage performing balancing acts that defied belief.
'Absinthe' is a show that makes you laugh out loud, gasp in horror, hold you breath and scream out loud, often all at once.
'Absinthe' is playing in the Speigeltent next to the Perth Arena until 16 August. 
Graeme Watson