Review: Absolutely Fabulous: The Movie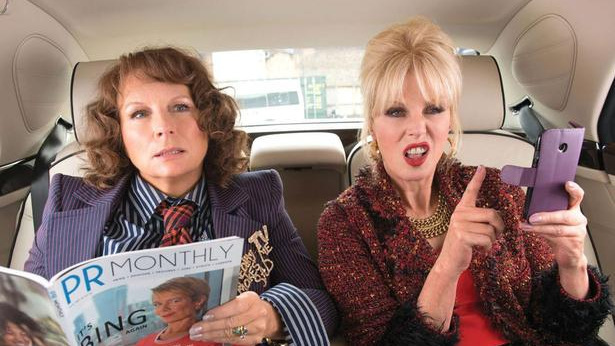 Absolutely Fabulous: The Movie | Dir: Mandie Fletcher | Rated M | In Cinemas Now | ★★★★
If you've ever wondered what the gayest movie of all time might be, the answer has arrived and it's drenched in champagne, designer labels and enough celebrity cameos to re-sink the Titanic.
Jennifer Saunders and Joanna Lumley reprise their roles as Edina Monsoon and Patsy Stone, the best mates who never quite managed to evolve beyond being the naughty school girls staking out the back seat of the bus.
In their first big screen venture the perennially pissed duo Eddie and Pats manage to raise the bad behaviour bar by inadvertently  sending supermodel Kate Moss plunging to her death  at the bottom of the Thames.
What follows as the two flee to the south of France evading justice and responsibility is a series of broad, unsubtle gags and one liners that couldn't be further from high brow but in the characters own words is a lot of bloody fun.
It's not all champagne and silliness though, star and screenwriter Saunders doesn't gloss over what it means to be a woman of a certain age in a society obsessed with youth, celebrity and labels. Patsy's morning beauty regime needs to be seen to be believed.
Whether you're a fan of the TV series that first aired in 1992 or a newcomer to the antics of Edina and Patsy, 'Absolutely Fabulous : The Movie' will be a welcome slice of 90's nostalgia that is best served with a well timed Bolly / Stoli cocktail with a side order of pretentious canapes drizzled with a botox dressing and served over a bed of extreme narcissism.
Absolutely Fabulous is just that… Absolutely Fabulous.
Clint Little