Action Plan Launched for Beaufort Street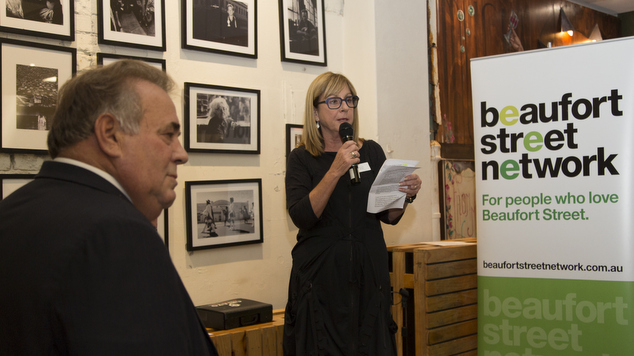 On Wednesday the Beaufort Street Network launched its Action Plan for a Better Beaufort Street. Held at Five Bar, committee members, local business owners, residents and council members alike, celebrated the success of the Network with its new Action Plan.
The Better Beaufort Action Plan is based on feedback from community members and local businesses gained from survey responses, community forums and workshops. Lord Mayor John Carey provided an inspiration speech focusing on the popularity of community organistations such as the Beaufort Street Network with a particular dig stating that Perth as a growing city needs to promote for more community ownership and participation over idle complaining and nae-Sayers. "From small things, big things grow", delivered Carey as he explained how the growth of the Beaufort Street Network has changed the way local councils work with it's communities.
The main aims for the plan include attracting more people to the street, particularly during the weekdays, which can be quiet. Other aims include making the street greener, safer and more comfortable, increasing foot rather than automobile traffic and providing a range of interesting experiences.
Some of the plan's practical solutions to achieve these goals include the implementation of Sunday morning art markets, naming laneways and planting trees as well as a range of other short and long term measures. More information is available here.
The Beaufort Street Network are also offering a $1000 grant to local creatives with innovative ideas for making Beaufort Street a more vibrant place. For more information on the Better Beaufort Street $1000 grant competition click here.
Photography: Abigail Harman