Aldous Harding: A different kind of party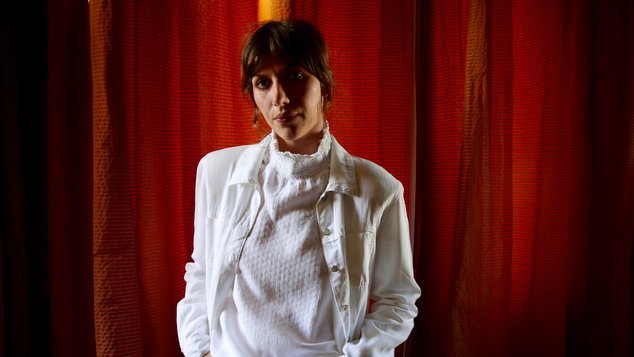 Aldous Harding's self titled debut album was a music critics favourite. A collection of haunting and tragic folk songs that told epic tales. Now the Kiwi singer is ready to release her second album, the surprisingly titled Party.
For her sophomore record Hannah Harding, who performs under the moniker Aldous, headed to Bristol to work with producer John Parish, best known for his long standing creative relationship with PJ Harvey.
While speaking to OUTinPerth Harding pauses to think about each question, and gives carefully worded responses. While she's happy to share her emotions through songs, the singer has never been entirely comfortable talking about her work.
Asked why Parish was at the top of her list of people to work with, she explains how she was drawn to some of his recent collaborations.
"It probably the Laura Jean album, because it was close to the kind of stuff I was making at the time, and of course Perfume Genius. Because between the two of them they felt close to the kind of stuff I could see myself making."
The resulting album Party sounds similar to her first record, but Parish brings in a variety of unexpected elements, from electronic sounds to powerful backing vocals.
Harding said she finds it hard to describe the new work, "I'm too close to it, I don't know how it sounds to other people."
The first reviews of the record have been filled with praise, and Harding is positive about hearing the good feedback.
"I think shit, that's fantastic! They like what John and I liked, there's an age old feeling of satisfaction, it's good to know people hear what you hear."
One unexpected fan Harding's work is Charlotte Church. The Welsh singer named checked Aldous Harding in a recent interview, describing her tune I'm So Sorry as one of the saddest songs she'd ever heard. "Isn't that mental." Harding said of the compliment, "It's so weird".
Harding performed at the Perth International Arts Festival a few years ago, supporting Perfume Genius. After delivering her set of quiet folk tunes she surprised the audience by finishing off with a bellowing rendition of an Edith Piaf classic.
"That was just when I was beginning to learn that I could sing loudly," Harding said.",and with a bit more freedom."
On her second album she definitely comes across as having more confidence, and lyrically also appears to be writing about happier experiences. Harding says she didn't consciously set out to make a happier record,
"I just was happier. It's so funny the first two songs I wrote after I finished Aldous Harding are the last two on the album.. And if I was to write a list of the order I wrote the songs in, you'd be able to tell that my mood is just going up and up and up, and the confidence in knowing that I can do and be whatever I want, comes through stronger each time, with each song. That probably sounds corny and rubbish, but it's the natural way of things."
Harding said that despite sounding positively more upbeat on the new record she hasn't necessarily discovered the key to happiness.
"I don't know what the secret is, I just know that I don't plan to fuck with whatever I was fucking with before, again. I just have a much better time now, and I think you've just got to,  get on with it, and try to enjoy it. Life's a lie, but you got to get in there.
"I don't think there's a secret, but I think I'm slowly figuring out to put the puzzle together and how to get there.
"When I was a kid I had a job, and I would keep money in an envelope, because I'd get addicted to watching the envelope get thicker. Now I feel like an envelope that slowly getting thicker. I'm more content and comfortable with myself, I get excited by that, and it gets better."
Party is out today 19 May. 
Graeme Watson