American YouTube stars The Kings try Australian foods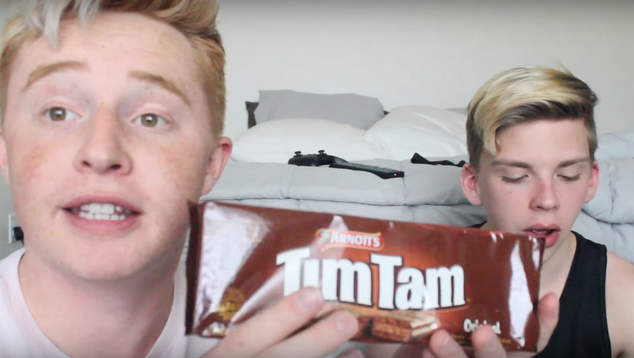 American YouTubers 'The Kings' have posted a video where they try a whole bunch of well known Australian foods for the first time.
Queer couple Kyle and Kaden posts videos about their lives, they call themselves 'The Kings' and refer to their followers as their 'royal subjects'. They share advice on everything from how to be a better kisser, to waxing, and a myriad of other things.
Country singer and American Idol judge Luke Bryan is a fan of the boys YouTube channel and recently sent them a box of Australian goodies while he was touring the east coast of Australia.
The boys rips into the box and sample a whole bunch of well known Aussie snacks, naturally they love the Tim Tams (who doesn't like a Tim Tam), but some other brands don't get the thumbs up from Kyle and Kaden.
See what happens when the boys sample Tim Tams, Twisties, Cherry Ripes, Freddo Frogs and Vegemite. 
---