Are We Moving Fast Enough To Stop Bullying?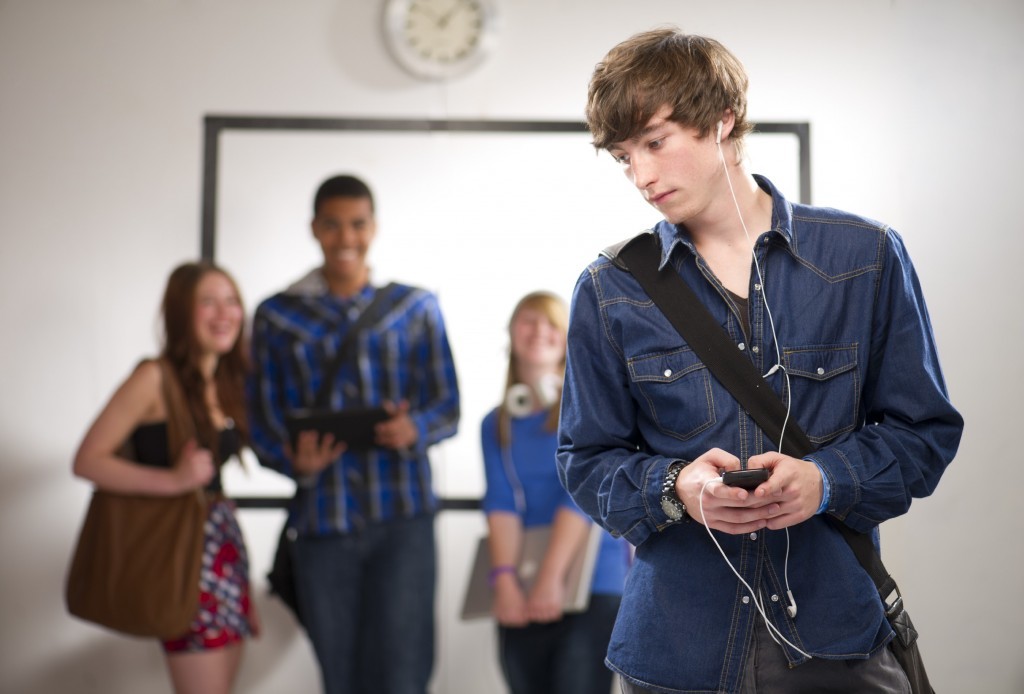 If someone started bullying you for being queer, where would you go and what would you do? For a question that applies to 350,000 Australian LGBTIQ youth, the answers are hazy at best. 
With a state government that has been reluctant to acknowledge that homophobic bullying in our schools exists, it's no wonder that half of the country's queer kids are contemplating suicide, whilst 22% (four times the national average) have actually attempted to take their own lives.
Despite a lack of formal support for struggling queer youth in the education system, newly appointed Education Minister Peter Collier admits that the issue exists, 'all forms of bullying, including the targeting of students based on their sexuality or gender, is banned in public schools and is completely unacceptable. However, we cannot be naive to think that it does not occur'.
Tiffany Jones, researcher and lecturer at the University of New England, New South Wales, conducted a nationwide study that highlighted the rainbow elephant in the room. A few statistics that might ruffle your feathers include:
•             75% of LGBTIQs experienced some form of homophobic abuse, 80% of which is occurring in schools,
•             18% of abuse is physical,
•             46% or WA LGBTIQ students attended a school with no support network,
•             72% of WA Catholic LGBTIQ students reported no support network at their school,
•             82% of LGBTIQ students do not classify their school as a supportive, safe place.
Numbers on a page might be easy to dismiss, personal accounts however are not. Growing up in Kalgoorlie, LGBT rights activist Suzie Day, 21, experienced constant harassment at school.
'I would walk around school and people I didn't know would shout 'dyke', my books were often covered in graffiti, I was so isolated at the time, I had no support whatsoever', she said.
Seventeen year old Paul can assure you that homophobic bullying isn't an urban myth, recalling an incident from when he was just twelve. '[they] dragged me off to the nearby park where they punched me and kicked me and beat me mercilessly with planks of wood. After they had finished they left me in a pool of my own blood and I literally had to crawl home', he said.
Jones listed numerous accounts of sexual, physical and verbal assault that youth spoke of during her research.
'A transgender female to male was sexually abused; you had cases of large groups of students bashing up another student on a regular basis. There is extreme violence, most common is social exclusion', she said.
Isolation doesn't end at the school gate.
'With racial bullying you can generally assume that the parents would be supportive… it's hugely common for queer youth to have difficulty with a parent, you have kids that can't even go to their parents after physical violence', said Jones.
Trish Langdon, the Executive Director for the WA AIDS council, believes parents needs to be doing more.
'The issue is parents who stop schools from adopting anti-homophobic policies. Sometimes this is because they fear any discussion about sexuality and their belief that schools who adopt such policies are promoting or condoning "a gay lifestyle", she said.
Co-ordinator of the Freedom Centre WA, Dani Wright, supported Langdon's point – 'Parents are really in a place of power for this, both in a positive and negative way. It's often the parents that kick up a fuss that paralyse schools from doing what they should be doing', she said.
A lack of direct action has more than one implication. Without support, LGBTIQ youth are more likely to be homeless, report having an STI, abuse alcohol and drugs, feel less safe at social occasions, attempt suicide and attempt self harm. Poor mental health and general under achievement also make up the long list of repercussions.
With all these concerning statistics and personal accounts now sat resonating, you may be asking – Why is there a not direct policy in our school system? Why are we not ensuring the safety of all students regardless of their sex or gender?
Lynn MacLaren, MLC Member for South Metropolitan has an idea, 'they say they've got this existing program which deals with bullying in schools and that's enough, they're ignoring all the relevant research in the area.
'Meanwhile we have suicide, depression and anxiety because you can't accept who you are, it's a serious issue in our community, I think this government is failing in its responsibility to all school children to allow a safe space for them to grow up', she said.
With no real direction in regards to combating homophobia, what exactly is happening in the classroom? The notion is that teachers are completely out of their depth.
Yvonne Henderson, the Commissioner for Equal Opportunities highlights the danger of admission, 'teachers themselves aren't necessarily homophobic; it is just when they ignore behaviour that is going on and do nothing, it gives the green light for behaving that way. I think teachers need assistance and support in knowing how to best challenge a comment', she said.
Jones believes that a lack of training amongst teachers is proving to be detrimental. It's more common than people think that teachers and principals don't know how to handle these students and often recommend that the student be punished or move on to another school', she said.
Day recalls, 'in one class I called out a particularly bad offender, then the teacher gave me detention for disturbing the class'.
Contrary to popular belief, our queer youth climate isn't getting any better. A national study shows that homophobic bullying has worsened, with instances rising from 69% in 2004 to 80% in 2012.
With little sign of our government addressing this ever pressing issue, what can we do to help?
Member for Maylands Lisa Baker suggests supporting the Safe Schools Coalition, which works to support gender and sexuality diversity in schools.
Vicki Barry from Uniting Care West believes that homosexuality needs to be discussed in schools – 'with  positive gay/trans role models; books and research projects with diverse themes including sexuality and gender'.
Tiffany Jones emphasised the importance of speaking out.
'I think everybody has a place in reducing homophobic bullying, it's mainly about pressuring the government to get a policy going. Write letters into the papers, the local government, pressure schools to do something about it. You don't have to be a parent to a gay kid. Whether or not you're same sex attracted, you can stand up for other people, that's when change really starts to happen'.
Readers seeking support and information about suicide prevention can contact Lifeline on 13 11 14 or Kids Helpline on 1800 551800.
Nadine Walker
Tags: bullying, Dani Wright, Education Department, Education Minister, Lisa Baker, Lynn McCLaren, Perth, Peter Collier, Suzie Day, Tiffany Jones, Trish Langdon, WA Schools