Australian Liberty Alliance Launches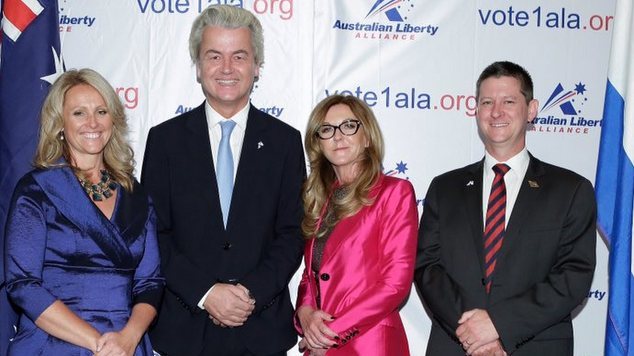 Australia's newest political party, Australian Liberty Alliance, was launched today in Perth. The party has named their first three candidates for the Australian federal senate.
The launch of the party saw vocal protesters attending it's media announcement which was held outside the Western Australian state parliament. The right wing party invited controversial Dutch politician Geert Wilders to visit Australia for their first events.
Wilders, a politician from The Netherlands is a opponent of Islam and campaigns against allowing Muslim people to immigrate and argues that new Mosques should be banned.
The party's first candidates are anti-halal certification campaigner Kirralie Smith, President of the Q-Society Debbie Robinson and conservative commentator Bernard Gaynor. Smith plans to run in NSW, while Gaynor hails from Queensland, Robinson will run for the senate in Western Australia.
Gaynor, a former Army officer, had his commission terminated by the Army for his outspoken views on Islam and the LGBTIQ community. Gaynor previously ran for public office as a representative of the Katter Party but was asked to resign after he said that parents had a right to know if their teachers were gay. Later Gaynor served as the state secretary of Family First in Queensland.
The Australian Liberty Alliance has published it's policies in relation to LGBTIQ+ people. The political party said they respect that some Australians choose to live in same sex relationship and that they would combat negative stereotyping and mitigate financial disadvantages for homosexual couples where they still exist.
The party is opposed to marriage equality, stating that they support natural families. On their website the group states the right of children to grow up in a natural family must remain protected and "alternative sexual orientations" shall not be actively promoted in schools and public institutions.
When OUTinPerth interviewed Bernard Gaynor in 2014 he told us that he does not recognise transgender people and for him the term 'homosexual' applies to all people who are not heterosexual.
Gaynor said he was in favour of homosexuality being made illegal and that Australia should have Russian styled laws that make it illegal to show or speak about homosexuality in public.
OIP Staff
.