BALI: Jeffrey Jay Fowler explores privilege and code-switching in new show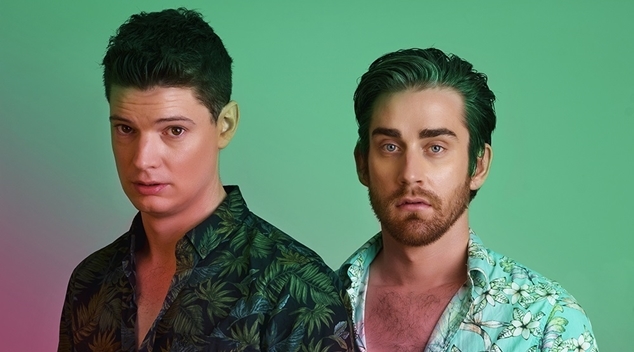 The Last Great Hunt's Jeffrey Jay Fowler and Chris Isaacs are revisiting some old friends in their latest production.
The pair will reprise their roles as Corgan and Jimmy in their Fringe favourite FAG/STAG, relocating the pals to Australia's favourite holiday destination; BALI.
With their last work exploring the role of masculinity and sexuality on the relationship between two male friends in their twenties, this new work meets the young men now in their thirties as they plan a decadent vacation to our nearest international neighbours – with all of the privilege that comes with an Australian passport and favourable exchange rate.
We caught up with Jeffrey Jay Fowler who tells us how the boys have changed since FAG/STAG, about his research trip to Bali with Isaacs, and Indonesia's gay scene.
"It's the same characters going through a different experience. You don't need to have seen FAG/STAG at all," Fowler begins.
"FAG/STAG kind of looks at privilege, one of the characters is wealthy and has an apartment bought for him and lives a certain kind of Mount Lawley life and we wanted to continue that exploration but relocate the characters into Bali."
"My character (Corgan) is not really wealthy, but when you go to Bali you're suddenly treated like a wealthy person if you are or not."
In examining white Australian privilege on the island, Fowler said he and Isaacs wanted to explore the ethics of the typical Aussie-in-Bali holiday.
"Is it okay for us to go there? What does it mean that 80% of Bali's economy is tourism but then there's a huge environmental impact?"
"FAG/STAG has a base of looking at masculinity and depression and communication between men but then putting this facade of comedy over the top, or using the dual narrative device to create some levity while you explore darker issues – we're trying to use that form again."
Developing the play, Fowler and Isaacs made the journey to Indonesia to observe Australian's holidaying on Bali – compartmentalising three days into three different types of Balinese vacation.
"We tried to see three different sides of a Western holiday in Bali. We went to The Bounty Hotel which is like $30 a night for a room for 2 of us to share. There's music playing 24 hours a day, there's a 24 hour bar every awful stereotype about Australians that you can think of is visible at The Bounty Hotel…"
From The Bounty, the duo upgraded to moderately-priced accommodation, ending the trip at a deluxe hotel which Fowler described as "one of the worst parts of the trip," but where they slept was just one part of the analysis.
"We went on lots of tours, tried to meet locals, spoke with lots of tour guides. We went to the malls and the markets and tried to meet strangers. Chris is really good at going up to strangers and interrogating them about their lives."
Fowler also explored LGBTI+ life in Bali, heading to the small selection of gay bars situated in Seminyak.
"Part of us creating FAG/STAG was going to Connections and looking at that together, in our real life friendship Chris doesn't go to Connections to we had to research that together, and for this we went to Mixwell."
"It's a really interesting place where the power dynamics of race are incredibly visible. It's palpable how tourists or Westerners or white men would treat people there."
"The way that people drink in Bali is pretty phenomenal because every one is on holiday and every one is in a certain mode which really amps it up."
The presence of Western tourists was evident across the island, with Fowler even encountering some home-town fellows on the road.
"While I was there I actually ran into some friends from Perth, I just literally walked in to them on the street. Which felt kind of weird, when that happens in Perth you think 'oh, we just got Perthed' and then getting Perthed in Bali just exacerbated these feelings that Australia's treating Bali as its backyard."
"We were looking at a continuation of my character's story line where during FAG/STAG he's newly out of a relationship and suffering with single life for the first time and we kind of pick that back up in BALI and he's remained single for two and a half years, as happens to guys, and he's pretty hardened emotionally and not really interested in opening up to anyone. He then runs into some guys in Bali in a new context and a new setting that makes him re-look at someone with new eyes."
Aside from the small cluster of gay bars on Bali, Fowler also took to the dating apps to get a taste of queer life in Indonesia.
"I opened up Scruff and I got a really lovely message about how I could be put to death for having gay sex in this country and that certainly goes into the play."
Fowler noted his trip came soon after two men were sentenced to dozens of lashes for being homosexual on the nearby island of Ubud.
"I sometimes feel really uncomfortable in developing nations or nations that might have poorer human rights records or on LGBTQIA+ people, but they are things that my character Corgan may not necessarily be aware of or in tune with."
Fowler adds that something he had noticed when he travels to developing nations was his need to code-switch.
"I admit to being guilty of speaking with a lower voice or roughing up my vowels. That's something my character talks about in FAG/STAG as well, this impulse to fit in to a situation – and in FAG/STAG that situation is sitting around with a group of bogans – but in BALI that situation comes up again.
"The questions I asked for my character who is two-and-a-half years older were do you become more comfortable? Do you code-switch less as you get older? Does it happen on both ends of the spectrum? Do you still code-switch in a gay club to make yourself more camp? Do you code-switch less around straight people because you've become more centralised to a truer self? Is there a truer self? I don't really know the answer to that."
Find out what Corgan and Jimmy get up to in BALI at the Subiaco Arts Centre, October 18th – 28th. Tickets and more information available online.
---
Support OUTinPerth
Thanks for reading OUTinPerth. We can only create LGBTIQA+ focused media with your help.
If you can help support our work, please consider assisting us through a one-off contribution to our GoFundMe campaign, or a regular contribution through our Patreon appeal.