Barking Gecko flies high with Storm Boy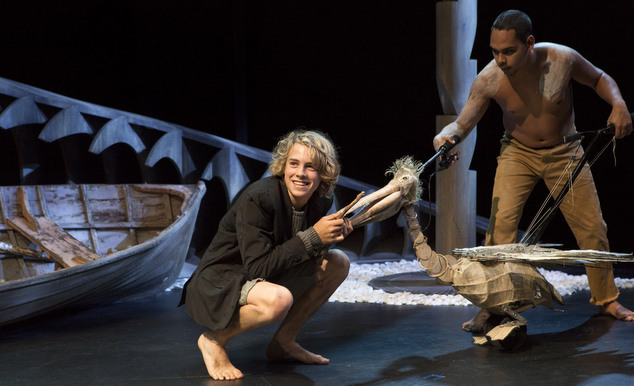 'Storm Boy', a joint production between Barking Gecko and the Sydney Theatre Company, has returned for another season.
The new tour of this show gives audiences a second chance to see the enchantingly beautiful telling of a classic Australian story.
With a stunningly inventive set, brilliant puppetry, clever lighting and awesome performances, all the pieces of the puzzle are placed perfectly for this much loved tale.
On a remote and desolate beach in South Australia, a young boy is living with his father, following the recent death of his mother. He wanders the beach alone. The young boy forms a bond with an indigenous man, Fingerbone Bill.
When a hunter shoots a pelican they rescues the three young chicks, and he maes them Mr Proud, Mr Ponder and Mr Percival.
Like many Australians I read (or maybe it was read to me) 'Storm Boy' when I was quite young. The film adaptation was essential viewing in the late '70s and early '80s.
I can clearly remember going to visit the Pelican that played Mr Percival in the film at Adelaide Zoo. Sadly he passed away in 2009, aged 33.
I'm also fairly confident that my life long fascination of  pelicans began with this story, so let's declare my obvious bias – the pelican is my shamanic power animal and I'm a South Australian.
Director John Sheedy has delivered a beautiful production that is well paced, filled with nuance and perfectly balanced performances. The show has a stylish set created by Michael Scott-Mitchell and the various forms of manipulated puppetry that bring the three pelicans to life is simple but oh-so clever.
On opening night Otis Pavlovic performed the role of Storm Boy, the actor shares the role with Kai Lewis, playing alternate nights. Pavlovic has nailed this part, having played it for quite a while as the show has toured around the country. It's not an easy role, he delivers a mix of enthusiasm, mixed with quieter moments and he's certainly got a bright future in the world of acting.
Jimi Bani, one of Australia's most exciting actors takes on the role of Fingerbone Bill providing some of the show's funniest moments and Julian Garner plays the father Hideaway Tom. Queer audiences may find themselves wondering where they've seen Garner before. Among the actors many theatre, television and film credits his role in the 1997 film 'Head On' jumps out.
Through some brilliant puppetry the three Pelicans are brought to life on stage, when they took their many curtain calls on opening night they received rapturous applause, only afterwards did I think that really at that moment we should have been giving more attention to their puppeteers Anthony Mayor and Phil Dean Walford, rather than the ever mesmerising puppets.
Colin Thiele's classic Australian tale has a simple narrative. Yet it cleverly incorporates big themes of loss, grief, masculinity, reconnecting, and ultimately learning to let go. 'Storm Boy' was a popular book, an incredibly successful film and now a new generation of Australian children can discover it in this amazing theatrical production.
It's a great show for children or adults and would be a brilliant show to introduce a younger person to the power of theatre.
'Storm Boy' is at the Heath Leger Theatre and the State Theatre Centre until Saturday.
Graeme Watson