Barnaby Joyce renews calls for a tort of privacy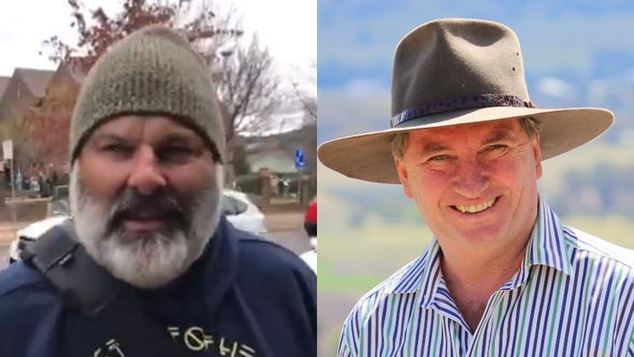 Former Deputy Prime Minister Barnaby Joyce has renewed his call for Australia to introduce a tort of privacy into common law. Legal experts have warned that the introduction of such a law would seriously impede the work of journalists.
The member for New England, who is currently on extended leave from parliament, uploaded two videos to his Twitter account showing him having a run in with a photographer who photographed him as he was leaving church this morning.
In the video Joyce demands that the photographer supply him with his name and the name of his employer, the photographer alleges that the politician has moved to assault him before the video commenced filming.
When the photographer walks away Joyce follows him down the street insisting that he identify himself. Joyce said the photographers suggestion that he had threatened him was "rubbish".
The photographer has been identified as Guy Finlay, who is employed by photo agency Matrix Pictures.
Joyce told his followers on Twitter that he had taken the unusual step of giving an interview to Channel Seven's Sunday Night  program so that the media would stop following him and new partner Vikki Campion.
The besieged politician split up with his wife after he had an office romance with Campion who was his media adviser. The couple recently welcomed their first child.
Social media users had a mixed reaction to Joyce's posts. While some argued that the media should give the politician a break, especially when he is visiting his church, others were quick to highlight that Joyce had spent time last week lobbying NSW politicians to vote against a law to protect women's privacy outside abortion clinics.
Others highlighted that the politician had received a rumoured $150,000 payment for his interview on Channel Seven, and comments were also made highlighting Joyce's support of a national debate on LGBTI people's personal lives via the marriage postal survey.
In May opposition legal spokesman Mark Dreyfus has previously described  Joyce's push for a new law that guarantees privacy as "unworkable".
Joyce first made the proposal arguing that it was unfair that a newspaper had revealed that his partner Vikki Campion was pregnant.
"Mr Joyce shouldn't be using his own personal circumstances as the basis for policy making. It's the very definition of policy on the run," Mr Dreyfus told The Australian.
While a former leading barrister said the proposal would stop the media from being able to report on important events.  Peter Faris QC told The Australian that Joyce's proposal would have an "enormous" impact on the media, labeling the idea "nonsense".
A privacy tort would also potentially stop journalists from filming anywhere in public, including political rallies, outside courts and question politicians arriving at parliament house.
OIP Staff
---