Bayswater council to consider support for marriage equality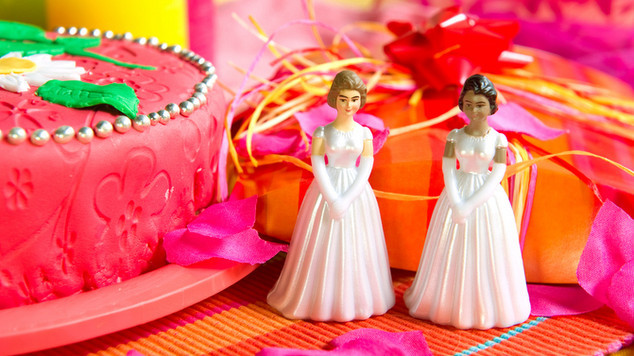 Bayswater council will consider a motion to voice support for marriage equality at a council meeting this week.
Councillor Catherine Ehrhardt has put forward a motion calling for the council to voice support for marriage equality irrespective of sex or gender identity.
The motion also calls on the council to acknowledge that civil marriage makes a positive contribution to families and community, acknowledge that many residents are disadvantaged by the current laws, and that marriage equality laws has been passed in 22 countries around the world.
If passed the motion would also see the council formally writing to the Prime Minister all federal Western Australian MPs and senators asking them to move forward with a conscience vote on the issue.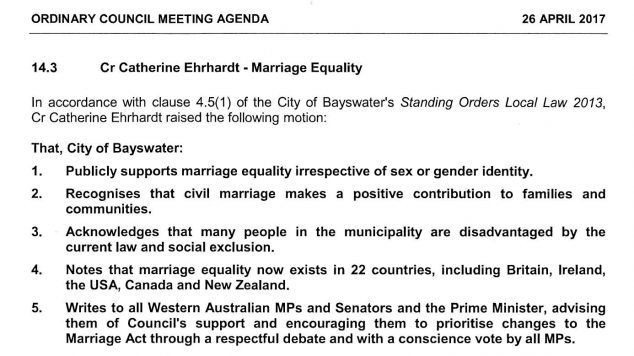 The move has provoked a strong reaction from fellow Councillor Brent Fleeton who has shot down the proposal saying it is outside the realm of local government responsibility.
Councillor Fleeton took to his official Facebook page to criticise the move.
"Another Councillor Motion up for debate next Wednesday which is so far outside the realm of what a local government is in place to deal with." Cr Fleeton posted.
The Councillor said opinions on the issue were irrelevant has local government's purpose was to focus on the basics.
"I don't believe we are here to collect rates (which pay for our salary and costs for running these meetings) to debate federal government issues. We are here for the basics. Roads, rubbish, local parks & gardens. The usual stuff I bang on about! That's the whole basis of our three tiered governing system."
To date, only two Western Australian councils has passed similar motions, the City of Vincent and Town of Port Hedland.
Support from local councils has been much more forthcoming in other states. So far 44 councils have passed similar motions including the City of Sydney, City of Melbourne and City of Hobart.
The Bayswater Council Meeting is on Wednesday 26 April at 6:30pm, members of the public are welcome to attend. The council meetings are held in the Council Chambers, City of Bayswater Civic Centre at 61 Broun Avenue, Morley.
OUTinPerth has reached out to all elected members in Bayswater and asked them what their stance will be on the issue.
Graeme Watson