Bethany Black on Doctor Who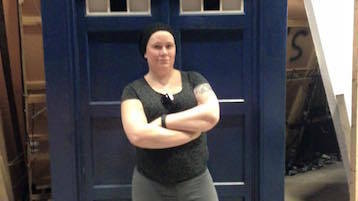 Actor and comedian Bethany Black is one of the featured actors on the next episode of 'Doctor Who'. It'll be the first time a transgender actor has been cast in the iconic series.
Black, who had a featured role earlier this year in the Russell T Davies series 'Banana' and 'Cucumber' plays a character called 474.
Not a lot is known about the episode 'Sleep No More' prior to it going to air. It's the ninth episode in the current series and it's written by Mark Gatiss.
The episode is comprised of 'found footage' discovered in an abandoned space station and presented as a documentary. It's said to be quite a change of style for the sci-fi series which will drop it's iconic opening title sequence for the episode.
Also appearing in this episode is Gattiss' 'The League of Gentlemen' colleague Reece Shearsmith.
Doctor Who is available on iview around 4:30am and screens on ABC1 at 7:40pm