Beyondblue chairman Jeff Kennett blacklists Roz Ward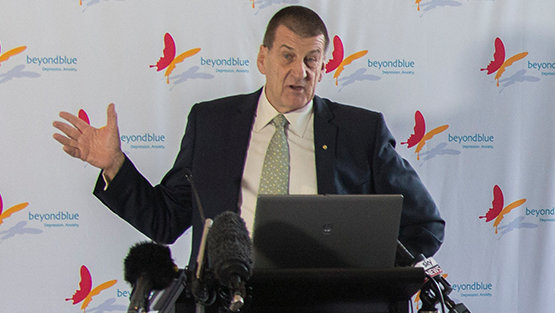 Jeff Kennett, the chairman of mental health advocacy group Beyondblue, has vowed to never fund any mental health project which involve LaTrobe University staff member Roz Ward.
Ward, the co-founder of the Safe Schools Coalition program, was forced to step down from her role on a Victorian government educational advisory board last week after the media reported on a private post from her Facebook account where she criticised the Australian flag.
The LaTrobe University academic has faced a barrage of criticism for her personal political beliefs from conservative columnists, The Australian newspaper and the Australian Christian Lobby.
Yesterday The Australian reported that Kennett had declared that he would vote against providing any future funding from Beyondblue to the controversial Safe Schools Coalition.
The former Victorian Premier quickly took to Twitter to clarify that the organisation had not provided funding to the Safe Schools Coalition, but was a funding provider to the University that developed the curriculum.
Speaking to The Australian Kennett said Ward had extreme views that he believed made her ineligible for any involvement in any program that is presented in schools.
"You don't want extremists in there. Her behaviour and her statement clearly indicate a belief which goes well beyond the conditions of which I am prepared to have this subject taught in schools." Kennett said.
Back in March Kennett announced his support for marriage equality and praised the Safe Schools Coalition for their work in reducing discrimination.
On his Twitter account Kennett posted a series of tweets stating that Beyondbue was still committed to supporting the anti-bullying program, but he wants the program's coordinator to hand in her resignation.
LaTrobe University's Australian Research Centre in Sex, Health and Society, where Ward is a staff member, developed the anti-bullying program that has been rolled out across the nation.
The centre took over management of the Victorian delivery of the program after the Andrews Labor government refused to bring in changes order by the federal government.
The University has confirmed that it will hold its own investigation into Ward's Facebook comments.
Victorian Opposition education spokesman Nick Wakeling has also called for Ward's resignation. Wakeling told The Australian that; "Safe Schools and Roz Ward are one and the same".
The Victorian Liberal party's education spokesman said the Victorian Premier and Education Minister were ignoring parents wishes.
"Daniel Andrews and James Merlino are continuing to force every government school in Victoria to teach Roz Ward's agenda, sidelining both parents and common sense," Wakeling said.
"Instead of spending more than $1 million of taxpayer money to force Roz Ward's fringe extremism on to other people's children, Daniel Andrews should focus on teaching kids to read, write and count."
OIP Staff, Roz Ward was contacted for comment.