Bibliophile: New Books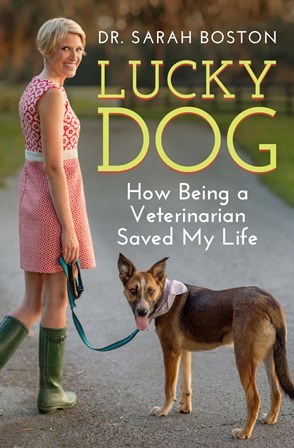 Lucky Dog
by Dr Sarah Boston
Allen & Unwin
Not only is Dr Sarah Boston a vet specialising in small animal surgery, she is an associate professor of surgical oncology. So when she felt a lump on herself where a lump shouldn't be, alarm bells went off immediately. She admits that when you deal with cancer every day, it is hard not to think the worst of lumps and bumps. She was living in Canada at the time and found the health care system frustratingly tardy. She realised that animals get better and much speedier treatment plans than humans. Putting pen to paper (or fingers to keyboard), she takes us on her infuriating journey to recovery and draws parallels with what is happening to her furry patients. It would be horrendous if she didn't see the funny side – such as comparing having a tumour on your thyroid with being pregnant with twins.
Despite four physicians telling her that she didn't have cancer, Sarah knew she had a thyroid carcinoma. She ended up fighting the system as well as the disease and wonders how someone without her knowledge and experience would even survive. She met patients who suffered (and sometimes died) needlessly because of continual delays and her lesson is that we should be less willing to accept that things are as good as they can get. In alternating chapters, she compares her experiences with that of her animals. She experiences of 'socialised medicine at its finest' and finds it severely lacking when compared with the wonderful accounts from her veterinary practice.
Eventually she did recover and turned her life around by becoming philosophical about the disease. Sarah admires the way cats and dogs bounce back after treatment and can be in the moment and find joy in everyday things. She is envious that her four-legged patients don't know they have cancer. She reminds us to follow our happiness and 'run like hell from your enemies; they just aren't worth it.' Her journey is humorous, thought-provoking, educational and inspirational and a portion of the proceeds from the book will be donated to animal and human cancer research and education … the rest she will squander on shoes.
Lezly Herbert
The Lion's Mouth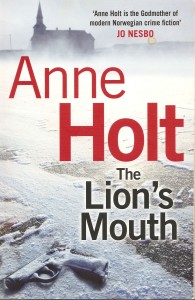 by Anne Holt
Allen & Unwin
The lion is a symbol of Norwegian officialdom. It snarls from the coat of arms above the entrance to the parliament complex, even though there have never been lions in Norway. Less than six months after being elected, Norway's godmother of crime fiction kills off a fictional Norwegian Prime Minister in her latest crime thriller. After Brigitte Volter is found shot dead in her office, the reader is presented with security guards, family members, right wing extremists, ex-lovers, political elite and even a Supreme Court judge as suspects.
There seems to be no apparent motive and a number of things are discovered missing from the crime scene. The commonality of all the characters is their need for survival, and achieving success being far greater than any need to care for other people.
Police detectives Billy T and Hanne Wilhelmsen (the lesbian detective who has solved many of Anne Holt's fictional crimes) try to sort through the intrigue and the lies whilst a local journalist uses unscrupulous methods to get hold of information before them. There's also a parallel story about an unusually high infant mortality rate in 1965 that takes a while to impact on events surrounding the prime minister's death.
Still trying to work out if the motive is personal or political, Billy T's favourite opera, Madame Butterfly, manages to take centre stage in a few scenes. With its theme as the concept of honour, the reader is reminded that the obvious person is usually not the perpetrator and the simplest solution is quite often the best. With so many suspect characters in this gripping crime story set in a cold climate, it's a challenge to find the killer.
Lezly Herbert
merciless gods
by Christos Tsiolkas
Allen & Unwin
Christos Tsiolkas is best known for his novels The Slap, Barracuda and Loaded which was made into the feature film Head On. He brings the same intensity to his collection of short stories. These are seductive stories that draw on his life experiences as the child of Greek immigrants in Melbourne and as a gay man. The title story opens the collection with a life-altering after dinner game where the professional twenty-something Melbournites tell stories based on the theme of revenge.
Written over the last twenty years, many of these 15 stories have not been published before. He even writes a powerful story about a Greek man in prison in Greek and translates it into stilted English. Across all the generations, his characters discover the difficulties of adjusting to another country's mores, the pain of racist slander and the tenderness and brutality of sexual encounters. All the stories are provocative and sometimes confrontational in their transgressions.
His characters are intense as they weave stories of love, sex, family, friendship, betrayal, bad trips and death. The last three stories (Porn 1, Porn 2 and Porn 3) cleverly alter the voyeuristic perspective to bring greater questions to the animalistic acts of passion being portrayed. A grieving mother discovers a porn video featuring her recently deceased son; a young man is forced to make a porn film to pay off a drug debt and a young man struggles as his desire gets the better of his faith.
Lezly Herbert