Bibliophile | Bundjalung author Shauna Bostock is 'Reaching Through Time'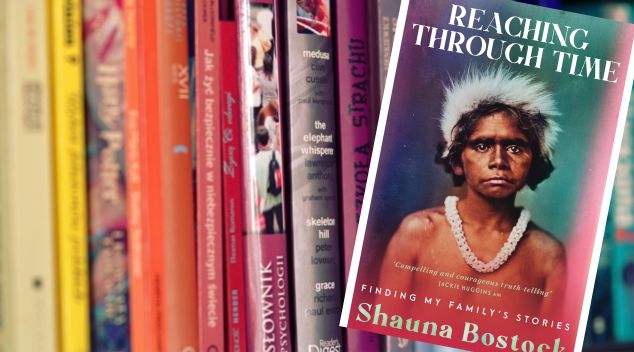 Reaching Through Time
by Shauna Bostock
Allen & Unwin
Primary school teacher and Bundjalung woman Shauna Bostock decided to trace her ancestry as far back as she could to make a stronger connection with her cultural heritage and find out about the lives of her ancestors.
She searched Australia's written historical records, which were started just after white settlers arrived in New South Wales. It took her thirteen years to unearth five generations of family history and it earned her a doctorate from Australian National University.

With Aboriginal ancestry on both sides of her family tree, she was shocked to find out that the Bostock lineage went back to father and son slave traders. Robert Bostock Junior was convicted of slave trading after it was outlawed in England and he was transported to Australia.
On arriving in Australia, Robert Bostock was immediately pardoned and, as a free settler, was 'given' land. It was much easier to trace his story than the stories of the traditional inhabitants who were fighting for survival after access to their food had been denied.
Shauna found that there were similarities between the slaves and the experiences of Aboriginal people in colonial times and throughout Australia's shameful history – "being treated as lesser human beings, exploitation and oppressive control".
Not only did the new settlers encroach on the land, they took ownership of the Aboriginal people already living there and got all the work to be done by Indigenous people, who even needed permission to go hunting for a day.
That was just the beginning of the white Australians' patriarchal control over Aboriginal lives. Government documents, letters, newspaper articles and even ASIO files reveal the displacement, segregation, wage withholding and conditions imposed for assimilation – to sever all connections with family, culture and country.
Not that gaining access to records was always easy as the New South Wales Government's Aborigines Protection Board and Aborigines Welfare files were removed from public access after details of The Stolen Generation was exposed by historian Peter Read.
Shauna managed to access only the documents pertaining to her relatives and has said that "by reaching through time and pulling our ancestor's files out of the archives we restore their humanity".
Lezly Herbert
---

You can support our work by subscribing to our Patreon
or contributing to our GoFundMe campaign.