Bibliophile | Shannon Molloy bares his soul in 'You Made Me This Way'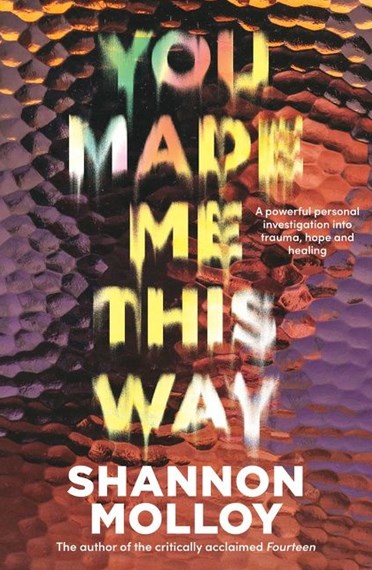 You Made Me This Way
by Shannon Molloy
HarperCollins
Warning: This review contains mentions of sexual assault.
Award-winning journalist and author Shannon Molloy is best known for his debut book Fourteen, a memoir about growing up gay in regional Queensland. The critically acclaimed best seller has now been turned into a sell-out stage production and is being adapted for the screen.
In the prologue to this courageous book, Molloy confesses that he feels broken. He admits that being unable to come to terms with sexual assault he experienced as a child has left him with personality flaws that cause continual disruptions to his happiness, his sense of security, his wellbeing … and most parts of his life.
In order to mend fractures in his psyche, he has been forced to confront his dark past, seeking help from his mental health professionals and having the support of his psychologist husband Robert. Along the journey towards healing, he found out there were many other men who had similar experiences.
Molloy acknowledges that this book wouldn't exist "without the immense courage and grace of the men who shared their harrowing stories" and the loved ones of men who didn't survive.
Child sexual assault is a taboo that society struggles to comprehend and therefore chooses not to talk about. As a result, very little resources are available to help male survivors, although there are increasing resources available for women.
Initially written to try to understand the impact his own experiences have had on his life, the moving accounts from other men make it a testament to those who have been to hell and dragged themselves back, only to carry deep scars for life.
Molloy sees that some demons have recognisable faces but no one can see the shame, guilt and self-loathing continue to torment him. He writes how it has been hard to open up about his life's worst moments – tormented by how he couldn't stop the abuse and forever wondering how it shaped him as a man.
All the stories are confronting, especially for someone who has had similar experiences or anyone who has a loved one who has been abused. But they are stories that need to be told and, in releasing them, Molloy wants the reader to know that a new dawn follows even the darkest night.
In a country where young men are encouraged to keep their shame a secret, this book is an important step in encouraging conversations about what must happen to support these men and the systematic changes needed to better protect children in the future.
Lezly Herbert
---
Do you need some support?
If you are struggling with anxiety or depression, support and counselling are available from:
QLife: 1800 184 527 / qlife.org.au (Webchat 3pm – midnight)
QLife are a counselling and referral service for LGBTQIA+ people.
DISCHARGED: [email protected] / discharged.org.au
Discharged is a trans-led support service with peer support groups for trans and gender diverse folks.
Lifeline: 13 11 14 / lifeline.org.au
Beyondblue: 1300 22 4636 / www.beyondblue.org.au
---

You can support our work by subscribing to our Patreon
or contributing to our GoFundMe campaign.