Bibliophile: The Stalking of Julia Gillard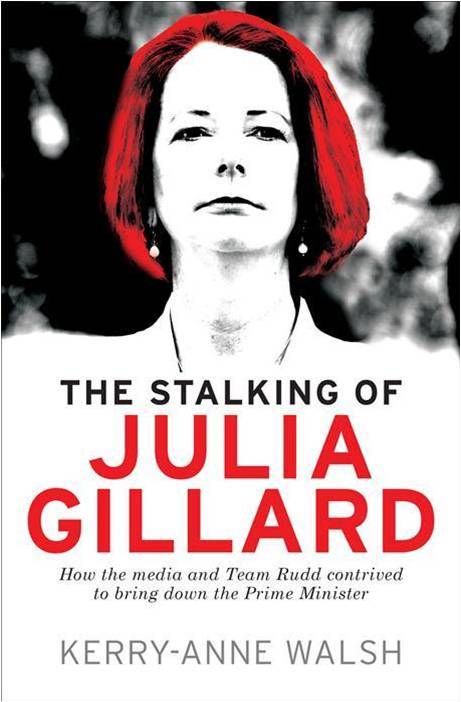 The Stalking of Julia Gillard
by Kerry-Anne Walsh
Allen & Unwin
Kerry-Anne Walsh was press secretary for Bob Hawke before reporting from Canberra's press gallery for the next 25 years for print, radio and television. She knows 'what a bastard of a business politics and journalism can be' and became disenchanted with political spin and the nature of political reporting. When Julia Gillard replaced Kevin Rudd in June 2010, she was fascinated with 'Rudd's toxic ambition' to either return as leader or 'destroy both the government who had dismissed him and the woman who replaced him.' Political journalists were willing pawns as they converted whispers into news and gave credibility to Rudd's 'political pirouettes' and exaggerated claims. Although she didn't talk to Gillard, Walsh kept a diary of the prime minister's "slow-death destabilisation".
Lead by 'specialist' political commentators who never attended parliament, Gillard's credibility was continually under assault as she tried to sort out the mess of unfinished business she inherited. Despite being mistrusted and even loathed by most of his colleagues, Rudd was performing for the media and collecting a record amount of Frequent Flyer points while Gillard was getting on with the job of governing and getting a record amount of legislation passed despite being a minority government. But 'politics is a brutal blood sport'. Many of the merciless attacks were personal – her hair, her clothes, her accent, her arse). As the killing season approached, Walsh gives a blow by blow ringside account of Team Rudd's guerrilla warfare.
Employing biting satire, Walsh calls it the Theatre of the Absurd with Gillard being 'strapped to the railway tracks'. Retrospective insight is a great thing, but Walsh could see that the Gillard government was going to be derailed by a 'psychopath with a giant ego' whose primary weapons were white-anting and his mates in the media. What an opportunity for Tony Abbott who was able to avoid close scrutiny and gain popularity while the Labor Party was being 'devoured from the inside'. Walsh's book is historical testament to Australia's most disgraceful attack on its first female prime minister.
Lezly Herbert