Bibliophile Sweet Envy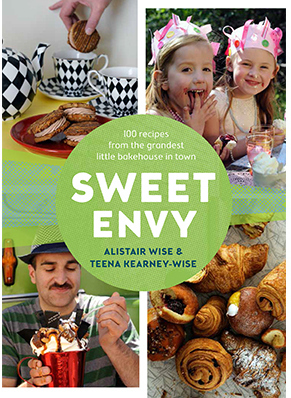 Sweet Envy
by Alistair Wise and Teena Kearney-Wise
Murdoch Books
After completing pastry and baking apprenticeships in Hobart, Alistair Wise and Teena Kearney-Wise worked in restaurants in Melbourne, London and New York.
Then they moved from the Big Apple back to the Apple Isle, returning to Hobart to open a bakery that makes the best of the seasonal fresh produce that was readily available.
Their book shares their journey and 100 of their best recipes with accompanying anecdotes about the origins each recipe.
They also give helpful hints to save time, such as preparing a desert masterpiece over 3 days, or using a mixture such as a carrot and zucchini muffin mix that can be used over 3 days to make fresh batches.
Breakfast suggestions include Tilda Bars that they invented to try to get their daughter to eat something healthy. Some of their recipes are quite radical such as Banana Jam, Bacon Marmalade and Rum Babas.
Morning Tea recipes to impress include Lamb and Harissa Sausage Rolls, Pork and Fennel Sausage Rolls and a Beatrix Potter Pie (yes … with rabbit).
Inspired by the bonbon trolley in Gordon Ramsay's New York restaurant, the sweet recipes bring back childhood memories. There's peanut brittle, honeycomb, chocolate fudge, nougat, caramelised popcorn and chewy salty caramels. Afternoon delights include Vo-Vo Biscuits, Kingston Biscuits, Banana Sticky Date Loaf, Red Velvet Cupcakes, Macarons and Macaroons. To complete the sugar overload there's a Gin and Lime Tart.
The cake section is certainly contains works of art with layered cakes that use mouses and jellies. The ice-cream recipes are diverse – from Salty Almond Caramel to Vodka Ice-Cream.
Australian Gourmet Traveller has called Alistair and Teena's book a 'work of heart'. Their passion for all things sweet comes through in their recipes and the colourful presentation in their book. They suggest turning the music up loud, moving the beat and adding a little sweetness to your life.
Lezly Herbert