Bibliophile | Tell Me I'm Okay: A Doctor's Story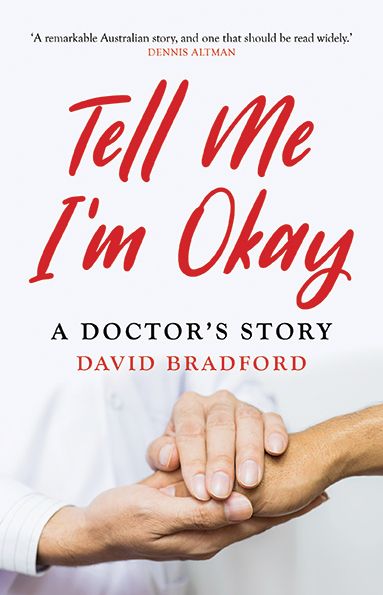 Tell Me I'm Okay (2018) is a memoir by Dr. David Bradford, a gay man who worked as the 'chief venereologist' of Victoria (Venereal disease is an old term for sexually transmitted infections) when the AIDS epidemic began in the 1980's.
Bradford worked as a doctor throughout the epidemic and continued to work as a sexual health physician until he retired in 2013. This 226-page book is split into two sections, 'Pre-AIDS' and 'AIDS', and contains lovely photographs in the centre from Bradford's working life, from Graduating with a medical degree in Sydney, to working in Vietnam (during the Vietnam War), Melbourne, and then later Cairns.
Along with making sense of working in the AIDS epidemic, particularly with the gay community, Bradford's memoir also deals with coming out with a strongly Christian family, life as a doctor – especially in a less 'glamorous' area of medicine like sexual health – and different aspects of life as a gay man since the 1960's.
Memoirs give readers the opportunity to engage with both the sobering and heroic recollections of an author's life. The reader is given a glimpse into the mundane and banal, along with the exceptional and momentous stages of life, which are tempered by the author's account of their participation in historical context and societal change. The facts are laid bare, personified by the embarrassing, the intimate, and the accidental aspects of life that seem so marvellous in narrative retrospect.
In witnessing an author's account, readers are given the opportunity to ponder our own lives and choices against the circumstances that are presented to us. David Bradford's Tell Me I'm Okay is no exception to the Memoir genre, and is an exceptional account of one gay doctor's experience of working through the AIDS crisis of the '80's and early '90's in Australia, and in management of HIV beyond this period as combination therapy became available for people living with HIV in 1996.
Bradford contributes to a broader corpus of literature that makes sense of one of the most devastating events to occur to humankind in the last century – a new and mysterious disease that resulted in death, suffering, and stigma for some of the most marginalised peoples at a time when medical practitioners were confident in the management of most common diseases and ailments. Furthermore, Bradford's account is a much-needed contribution to making sense of Australian understandings of the period.
As a reader, I am a gay man, a sexual health worker, and an early career researcher explicitly interested in HIV/AIDS in all of its social, political, historical, and scientific aspects, and Tell Me I'm Okay was therefore appealing to me on all of these fronts. I was struck by the flattery of familiar as most of the descriptions of managing sexually transmitted infections and providing a diagnosis of HIV was familiar to my work. (I even spoke to several of the sexual health doctors I work with here in Perth and they were familiar with Bradford and spoke very fondly of his influence on their practice).
No doubt other people working in sexual health will enjoy seeing their own patients and experiences reflected in many of the case studies Bradford provides (In fact, the book serves as a good introduction to counselling and education in the context of sexual health consults!). The primary difference for me was the context of a HIV diagnosis as a near certain death-sentence, which was well before my working career. It is difficult to comprehend what it must have been like to work in that period, and much of Bradford's memoir deals with this.
However, Tell Me I'm Okay also explores his childhood and life prior to working in the AIDS epidemic, growing up in a strongly Christian family, the first realisations of attraction and desire for other men, working as a junior doctor in England, and meeting the man who would become his life partner. I felt very emotional reading this single sentence from the chapter, 'I Meet Michael', where he says, "He arrived in August 1973 and we have lived together ever since." (66). This simple matter-of-fact sentence reminded me that representations of long term LGBTIQ+ relationships are often few and far in our cultural landscape.
For young people like myself, and for non-queer people and others who were at a distance of the AIDS epidemic – this book gives an essential personal account of a history that ought to be understood more widely. By 1993, Bradford had a diary with the names of over 200 patients he had cared for who had died of AIDS-related illnesses. In reading this I couldn't help but remind myself that I was born in 1993, and that 25 years later people who are diagnosed with HIV can be expected to live relatively normal lives – although stigma remains one of the greatest challenges – but medical management has advanced in ways that would have been both miraculous and difficult to imagine for an overworked Bradford in 1993.
Bradford's esteem for his colleagues and patients – the nurses, other doctors, administrative staff, Aboriginal healthcare workers, sex workers, people who inject drugs, fellow gay men, trans and gender diverse people, migrants, and of course, people living with HIV – is nothing short of the most human-centred and progressive that we should expect of any person working in the medical profession. Tell Me I'm Okay is at once a very personal account of a gay man's childhood and working life, but it is also a testament to the great influence that compassion and humanitarianism can have in the face of human disaster.
My only negative critique of the book is very minor – and perhaps a little greedy – I would have really loved more from the post-1996 turning point of working in HIV management, such as the difficulties in managing side-effects of different waves of antiretroviral treatment, debates over the evidence and efficacy of an undetectable viral load, the competing approaches to HIV prevention (sero-sorting, negotiated safety, counselling condom usage, etc), and so on.
I congratulate David Bradford on sharing his important story, on the immense difference he would have made to so many people – some who he witnessed die – and others who live today.
Anthony K J Smith
 After some new books? Head to the Book Depository