Bibliophile | Tjanara Goreng Goreng is A Long Way From No Go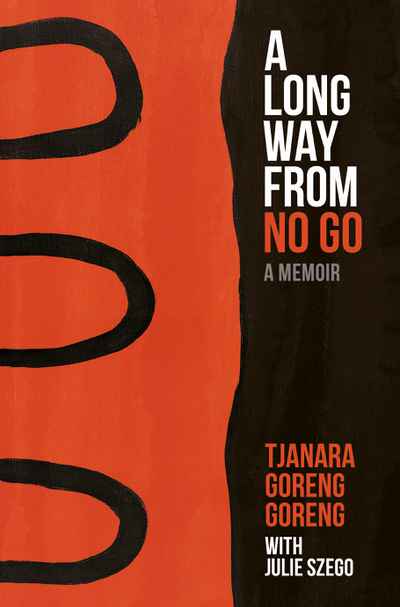 A Long Way From No Go
by Tjanara Goreng Goreng
Wild Dingo Press
Christened Patricia Mary Williams, Tjanara spent her first years at No Go cattle station before moving into the town of Longreach in central western Queensland. She remembers that her family as being "impeccable Catholics" with a house so spotless that nobody could remove the children. She also remembers coming home from school one day and telling her mother that the nuns had told her class that Captain Cook discovered Australia, and when he arrived there was nobody there. Having converted to Catholicism to marry an Irishman, her mother let her know that "Catholics don't know everything".
Changing her name to Tjanara Goreng Goreng coincided with the Bicentennial celebrations of the white invasion and her growing awareness of Australia's Apartheid. Over her lifetime, she has kept many secrets, including being sexually abused by Catholic priests. Despite speaking out about racism at an early age and becoming active in the Aboriginal Rights Movement, the shame she felt prevented her from telling about the incidents. "When you touch shame it's hard to face."
Finding it difficult to carry the burden, Tjanara sought relief in education, Western psychotherapy, traditional law and Eastern spirituality. She says "I guess you could say I've become an expert at merging disparate cultures and school of thought – after a while you get practiced at all kinds of reconciliation."
Tjanara has advised successive Commonwealth and State governments on Aboriginal policy and learnt about the vicious cycle of violence and dysfunction in Aboriginal communities. "The violence even seeped into the realm of traditional culture, with men bending the law to accommodate and justify their behaviour." She explored policies for tackling domestic violence, sexual abuse, trauma and mental health problems. But she was powerless to do anything about orders from "an ivory tower in Canberra" and powerless to do anything about the negative ramifications of government intervention.
After nearly 40 years of working in the Public Service, Tjanara had enough of the "skullduggery" and fabrications and became a whistle-blower. She helped expose fraudulent claims that gave the Northern Territory government power to bulldoze over people in the rural community of Mutitjulu, at the foothills of Uluru, at a time when they were agitating for land rights.
Tjanara also finally faced her tormentors and named names and described incidents that helped secure the groundbreaking conviction of a paedophile priest. Her bravery has not been without personal cost and journalist Julie Szego has helped her write her story. It is a story all Australians should read and it would be great if it was embraced as a text for final year students in high schools.
Deanella Mack, an Arrante woman I met in Alice Springs recently, acknowledges that many people get information around the symptoms of "colonialism, invasion, settlement" with regards to Aboriginal communities from non-reliable sources. As a consequence, "some people often have very strong opinions about something they have very little or no knowledge about".
Deanella also acknowledges that a system that has failed Aboriginal people in Australia for generations has also failed non-Indigenous people in how they learn about or appreciate Aboriginal cultures, histories and concepts. "These days the knowledge around cross-cultural awareness is at your finger tips, so ignorance is no longer an excuse." Get Tjanara Goreng Goreng's book or, better still, get your library to put it on their shelves so that many more people can read this valuable history.
Lezly Herbert
 After some new books? Head to the Book Depository