Are you ready for a Big Gay Sunday? RuPaul's Drag Race star Mrs Kasha Davis will be sharing a (virgin!) cocktail with fellow alums Raja and Tatianna and Perth's own Alexas Armstrong this weekend at The Court Hotel.
We caught up with Kasha to find out about her start in drag, her favourite memories from Drag Race, her passion for I Love Lucy and exactly when she'll have time for a cocktail!
Have you ever been to Australia before? What are you expecting from an Australian summer?
I have never been to Australia and it's an ABSOLUTE dream come true not just for me but for my hubby Mr. Davis! He's joining me for this tour and I couldn't be happier we get to experience this first time together!
I have family outside of Sydney and they are equally excited for us to visit and they were historically the ones who always had to make the big trip to the US. As for the summer it's currently ONE DEGREE outside as I sit at my computer typing this so we CAN'T WAIT to shed some clothes and enjoy the HEAT!
So Mr Davis will not be at home cooling the boxed wine (or goon, as it is known in local nomenclature) for your return?
Mr Davis will not be chilling boxed wine or GOON any longer for me as I'm 2.5 years sober.  Yes, yes I know there's always time for a COCKtail but honestly there is ….(for others) just not me.
You see I realised a few years ago that I was allergic to alcohol… every time I drank I broke out in handcuffs. But I digest. No… truly I do…for my age good digestion is key.
I have a strong connection to visiting your country because a fabulous queen messaged me from Down Under at least a year ago and she was so kind with her words and her messages about me being open with my struggles with the bottle that she claims I've helped her and what can be a better compensation than that really? Her name is Tina Bikki and frankly we've lost touch but I'm hoping she's doing well on her life journey and we meet up on this tour.
What -IS- your favourite cocktail, by the way?
My favorite COCKtail was always whatever was cheap or hard.  Which sounds pretty sexual now that I think about it but at my age honey we truly take anything we can get.
When I met my husband he had 3 things and I knew he was the one for me. 1) a nice penis 2) a pulse and 3) good credit… and one of those is a deal breaker. 🙂
Enough about alcohol! Tell me about your beginnings in drag.
My begging… (lol typo I kept it cause it's funny…) or beginning in drag started as a little boy, gal, girl, boy, fella… when I was light in the loafers or a fairy so they'd say and I'd watch my mother Ellen put on pounds and pounds of make up daily and listen to my grandmother Mae's vaudeville stories from when she was a whistler on stage…(boy could she BLOW I guess I'm a lot like her) and from those moments I knew I wanted to be just like these Italian divas in my life. But how?
Years passed and I was in a club called Muther's in Rochester NY watching gals like Darienne Lake and Pandora Boxx on stage and I just loved it. I had a theatre background but I simply couldn't imagine doing what they were doing until I met my inspiration. MISS RICHFIELD 1981 she was singing live, being HILARIOUS and she wasn't pretty and I thought I could do that!
So in 2004 I strapped on my best mother of the bride dress and lip synced to a very well rehearsed I Enjoy Being A Girl from the musical Flower Drum Song and the rest is HERSTORY.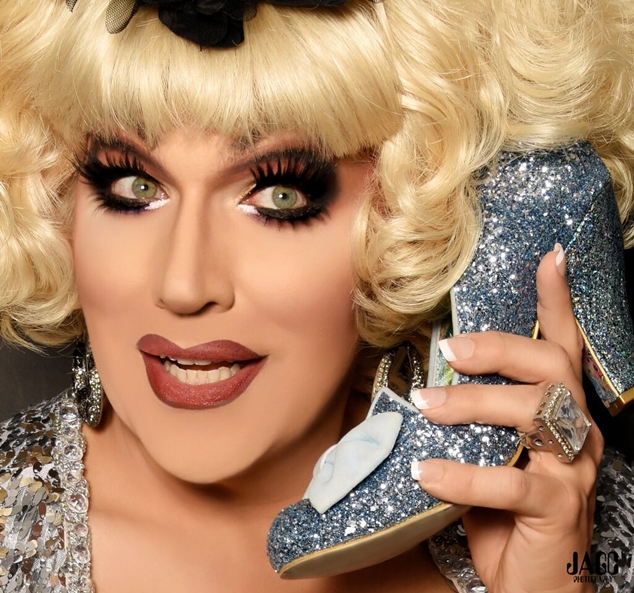 When are you launching your #AllStars4 campaign and how can we help?
All Stars 4 is going to happen and I'm going to compete. I've realised in my age and sobriety that what you visualise and verbalise will materialise. I'm not "wanting or waiting" I'm thinking and vocalising the positive and enjoying how life unfolds because of those energies I put out into the universe.
I am fortunate to have an outstanding husband and family that supports me and an incredible manager Michael Benedetti of Executive PR who "gets me".
You see I believe I have more of a story to tell…we all do if we think about it. I refuse to sit and wait I'm a go-getter and the queen who not only accepts her reality but celebrates others success. So even if I verbalise these dreams and they don't exactly come to fruition what I can do is celebrate my peers and the up and comers success as it never ever hurts to be happy for others.
In the end we should all be over the moon that FINALLY we can express our truest genuine selves so that others young and old can be inspired not only to express theirs but to be KIND to others making their way in expressing themselves. We are so lucky to be a part of this amazing time in drag history thanks to Rupaul's Drag Race.
What is your favourite memory from your time on RuPaul's Drag Race?
My favourite memory from my experience on Drag Race would have to be when I found out I was cast. You see I auditioned for all 7 seasons and vowed to continue to do so until those bastards cast me!
As a kid I watched I love Lucy and was so infatuated with how it all worked and the honest delivery of the comedy. I saw myself in all 4 characters and wondered how they would possibly add me to the cast someday.
Well lo and behold of course that didn't happen but my Hollywood dream remained. I thought and dreamed of being on a Hollywood sound stage someday.
What blows my mind is that our season was filmed on the sound stage where I Love Lucy was first filmed and one of the tech gals took me out during filming to see the plaque that confirmed it! As we filmed this energy filled my body reminding me that dreams DO COME TRUE just not in our timeline. They happen as they are supposed to happen.
Got any juicy tour goss on your fellow Big Gay Out queens?
As for gossip regarding the gals on tour well… Queensland queen BeBe Gunn has horrible gas and we have farting competitions backstage and Landon Cider can't get enough RED M&M'S otherwise all the rest of the "celebrities" are fabulous ladies.
I honestly love them all in different ways some like family Max I have a very strong connection to (step-mom like) and others I have only met in passing but have such admiration for… like the every evolving and changing fashion and art of Raja and the stunning beauty of Tatianna.
Frankly they are all so very kind to me and remember who I am which is all I can really ask for right. To be remembered. Who am I really? Just Eddie Popil from Scranton Pa who had a dream…to be a star.
What can Perth expect from a Mrs Kasha Davis performance?
Perth… I am working on my death drop which at my age is literal. So this should be memorable… it's a slow process but I'm getting there. Maybe I should sell new merch… "she's death dropped and she can't get up!"
Mrs Kasha Davis will be death-dropping into The Court Hotel with Raja, Tatianna and Alexas Armstrong this Sunday January 14. Tickets and more information available from BigGayOut.com.au
Leigh Andrew Hill