Blair Cottrell harasses street performer for wearing pink leotard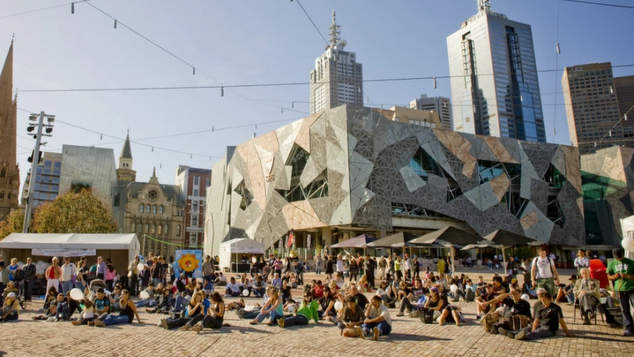 A Melbourne street performer has been harassed and intimidated by United Patriots Front leader Blair Cottrell who says he took offence to the performers costume and choice of music.
Street performer Daniel Oldaker, who performs as Dandyman, was doing his routine in Melbourne's Federation Square when he was approached by United Patriots Front leader Blair Cottrell and some of his supporters.
In a video uploaded to YouTube by the group, Cottrell is show interrupting the performance and calling him a pedophile. The performer attempts to move away from larger man who follows him through the crowd repetitively asking him if he's a pedophile.

"We're going to turns this guys amp off." Cottrell says at the start of the video, "He's wearing a g-string in front of kids."
The performer was wearing a pink leotard costume. As Cottrell and his group approach the performers music is turned off.
Cottrell is seen following the performer through the crowd repetitively asking him if he's a pedophile, swearing at him and telling him to leave the space. Oldaker tries to get the attention of police. When an audience member confronts Cottrell, the performer runs across the road to get police assistance.
"It's disgusting, I don't like it." Cottrell is heard saying. Off camera one of his colleagues is heard calling a member of the public "a communist faggot"
When Oldaker returns with the police Cottrell says "It's just disgusting, it's just not on". Cottrell asks the police to arrest the performer for indecent exposure. The police refuse and note that his act has been approved by the City of Melbourne council and he has a permit to perform.
Today the performer returned to Federation Square and performed his routine and was greeted by a massive crowd, earlier this evening he spoke to Channel Ten's The Project about the altercation.
Oldaker said it had been an intimidating experience, but he was pleased with the way that police responded and thew support who got for audience.
Cottrell appeared on radio station 3AW to defend his actions and said the performer had spoken to him in a "passive aggressive" manner and he took action to protect children.
"He's dancing in a pink mankini in front of toddlers." Cottrell claimed. "I don't know why anyone would stand up for him, it's obscene and I'm sick of seeing that kind of thing on social media sometimes whether its videos from Mardi Gras or some sort of modern festival."
"I'm glad I stood up against this guy and I'd encourage other people to start doing it too."
Host Neil Mitchell asked Cottrell why he considered the performer to be dressed in an obscene manner, Cottrell said he believed you could see the outline of Dandyman's genitals. "I didn't personally look." Cottrell said. "but in the video I think you can see that it's obscene."
"Are you worried about him being gay?" Mitchell asked, adding that he had no knowledge of the performers sexuality. Cottrell said he was taking a stand against things he considers inappropriate.
"It's getting common, it's being normalised by a modern leftist culture, and I don't agree with it." the United Patriots Front leader said.
OIP Staff
Update: 31-01-19 13:50 image on this article was replaced. 
---