Boys Boys Boys! Excited About Everything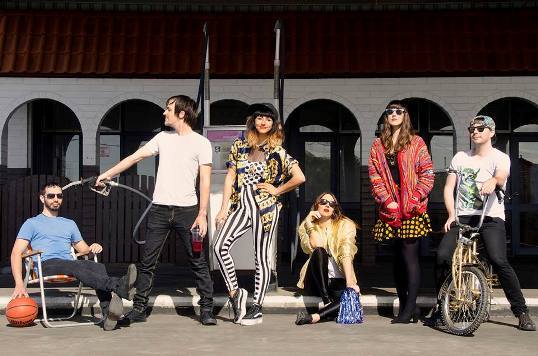 Local synth indie-pop group Boys Boys Boys! have put together another group of songs designed to put a smile on your dial. Established in humble burger kitchen beginnings,  the group have produced music that have sent them around the country, dishing out performances that turn the moshpit into a big group hug.
We had a chat with Jeri (Jerico Wallace) about the new album, and what's next in store for the up and coming group.
You guys have had a great six years, what have been the highlights?
Playing live is the best thing and playing big festivals. Playing with the Vengaboys last year, that was crazy, playing with awesome bands and spending time with your friends, it's pretty rad!
You guys play fun loving music, what's it like constantly playing that live?  The most rewarding thing is to see people partying and to see people smiling, that's the best thing, you know? That's so rewarding.
Do you think you guys will call it a day when it starts getting a bit too serious? [Laughs] I don't think it will ever get serious!
You never know! You could get so successful you have to buckle down.
No way, we'll be dags forever.
That upbeat, light music you play, did that form over time or was it something you were doing the moment you formed?
Pretty much straight away, we worked in a burger kitchen together and me and a couple of the girls, we all just loved pop music. Britney Spears, New Kids On The Block, Spice Girls, stuff like that, so we would always listen to that and just think 'oh we could write these songs'. I think it just kind of naturally happened that way.
Your new record has a really similar style to your previous one, what do you think sets it apart and what do you think fans can look forward to that's new on the album?
Well obviously twelve new songs, which is good! I think this one is written a lot better, the last one was pretty quickly done, and they were all just really fun quick pop rock songs. This one we kind of really took the time to write it well and make the dynamics better, we've put a lot more effort into this one so hopefully it will pay off.
You guys have a bit more practice now as well!
Yeah definitely! And also going to Queensland and recording with a producer like Magoo who is held pretty high in the industry and knows what he's doing, which is cool.
I searched you guys on Youtube before this interview, what's it like being drowned out by Lady Gaga?
[Laughs] It's so annoying! Everyone's like 'did you get your name from that song?!' and we're like 'NO we did not!'
It's quite hard to find you guys now!
Yeah I know!
Are you constantly getting asked about that?
Sometimes, but also because we named ourselves after the 80's song 'Boys Boys Boys' so that comes up as well and I don't know if you've seen the video clip for that but there's lots of nipples… heaps of nipples!
Talk me through the first single 'I'm here forever', how did you feel about the track when you guys finished it?
The funny thing is it's not actually the first single really. We made a video with it just for fun, it was supposed to be a really funny little homemade video just for shits and giggles and then it turned out to be a big production and we were like 'oh, I guess it's a single?' The next single 'Super-Fine' is actually going to be the main single because it's a bit more fun, it's pretty rappy and upbeat 'I'm Here Forever' is just an ode to the 90s because we all love 90s music!
So you didn't even mean to make it the first release off the album, but it kind of is?!
Yeah, I know right! It just kind of happened that way but I guess hey, I like it, it's a fun song!
Were there any songs you made when making the record this time round where you thought – this has the potential to be a really big hit. How does it feel when you get that vibe?
It's kind of a relief! When you're in the studio and you hear it back and you're like 'oh actually that sounds pretty mint, that could actually go somewhere', it's really exciting. There's been a couple of times in the studio where I've heard a song and I'm like 'whoa, rad, this could totes be a single! And everyone's like yeah yeah cool!'
It's like hang on we're actually talented?!
[Laughs] It's more like 'oh we're okay! Yay!'
I've spoken to a couple of other artists that say when you're in the studio and you hear a song a hundred times and you lose your perception of whether it's even a good song.
Yeah, that's so true, you hear it so many times and you can't hear it any more if that makes sense? You can't tell whether it's good or if it's terrible and you're like 'oh well, we'll just keep going with it".
You're launching your new album at the Bakery, what's it like launching an album that you're really excited for in your hometown?
Yeah its awesome, we've put so much work into this album and it's been done for a while now so we are just so keen to get it out there and see what people think of it. Hopefully they dig it and dance and shiz. I can't wait for Friday, it's going to be amazing… all my friends are going to be there!
What's it like playing your hometown compared to strange cities?
Well obviously you have your mates around in your hometown but it's also exciting to play in other places to see what reaction you get, you never know you could get ten people and they hate you or you could get heaps of people and they're totally like 'oh my god! I've never heard of you guys! Come back!' You get positive feedback so it's good to get that.
When you've had a really crappy gig in another city do you ever just feel like screaming 'my friends like me at home!?'
'Yeah! We're okay! Please like us!' I like being in Tasmania, Tasmania is rad, people just party like crazy. If you're playing there, they're going to come see you. They have good cheese too.
Are you doing Tasmania with this tour?
Hopefully! I really hope so, I also want to go to Queensland because my family are there and they haven't seen me play so that would be really fun, go sit by the beach.
What tracks should fans look most forward to next?
Hmm. Well 'Super-Fun' is probably my favourite on the album that's the next single and we've got a video coming up for that pretty soon, I wrote my own song on the album called 'We Like To Move' and I'm pretty excited about that one because it's a bit of a dance track and people can groove to that one. I don't know it's a pretty fun album, what did you like? What was your favourite song?
I like 'I'm Here Forever', I was just listening to it before I think it has massive potential, really catchy.
Awesome, did you watch the video clip for it?
Yeah I did! It's so funny, I walked in this morning with my soy latte like 'right I need to do some research for these guys' I watched it and was just laughing my head off in the office.
Did you see the Spicegirls moves in there? There's actual mentions of Spicegirls and sclub7 in the song!
What's next for you guys after the tour?
Well we have the album release, the national tour, we're going to release the video clip shortly, we're going down south to do a tour next weekend playing in Bunbury and Margaret River and that should be heaps of fun!
They're always really good gigs apparently!
Mhmm. And you get a cooked dinner.
Playing rural Australia is meant to be really good.
Oh it's so awesome, because they're always just drunk!
That's about it! Is there anything you wanted to add?
Keep rocking in a free world and doopdoop dedoop!  
Boys Boys Boys! will be launching their album 'We Are Excited About Everything' at the Bakery, this Friday, June 11. Grab your tickets here.
Nadine Walker