Who Are 'Catch The Fire' Ministries?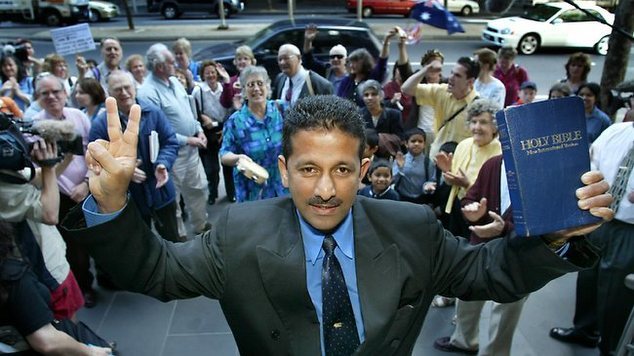 Federal Minister Kevin Andrews has bowed out of the World Congress of Families conference in Melbourne this weekend.
The US based group has been labeled an anti gay hate group by the respected Southern Poverty Law Centre.
While the Human Rights Campaign described them as "one of the most influential groups in America promoting and coordinating the exportation of anti-LGBT bigotry, ideology, and legislation abroad."
On their website the World Coalition of Families states that they are against hate laws, against granting legal recognition to people who identify with a "gender that is not their own", opposed to marriage equality and do not believe that homosexuality is an innate quality or has a genetic component. The group is also supportive of Russia's Child Protection laws that make any reference to homosexuality where people under 18 may be illegal. The group argues that these laws are not specificly anti-gay but cover a wide range of topics.
While Minister Andrews defended his appearance opening and closing the groups Melbourne conference he pulled out once the venue was switched to the Catch the Fire Ministries.
Mr Andrews said The Greens and the left had been intolerant and had shut down the debate on the issues, but also indicated that the Catch the Fire Ministries were beyond his realm of acceptability.
"Equally, I cannot support intolerance from other quarters. As I have been informed today that the event is now to be hosted by Catch the Fire, I have decided not to attend." Mr Andrews said in his statement.
So who are 'Catch a Fire', this group that is too intolerant for Kevin Andrews?
'Catch the Fire' is a evangelical group headed by Dr Daniel Nalliah. Alongside their church they also have a recognised political party 'Rise Up Australia'.
Pastor Nalliah began his work as an Evangelist in his native Sri Lanka.  In 1996 Nalliah and his family moved to Saudi Arabia and ran underground churches in the country where non Islamic relgion is outlawed. While living in Saudi Arabia Nalliah states that he met Jesus.
Following his encounter with Jesus, Nalliah and his family moved to Australia to set up Catch the Fire Ministries. The Pastor received his Honorary Doctorate of Divinity Degree from St Thomas Christian College in Jacksonville, Florida.
The Rise Up Australia party is the church's political arm, It's manifesto of 25 policy principles includes a statement arguing that gay and lesbian people should not be the victims of hate crimes.
The group states their belief that confusion about sexuality is often the result of sexual abuse by a person of the same sex, domineering parents or parent's being disappointed in the gender of their children. The party says people should be compassionate to gay and lesbian people in order to allow them to heal.
The group is opposed to same sex couple raising children or programs which allow allow unmarried people to become parents such as fertility treatments. The party claims it is in favour of religious freedom but is also opposed to the spread of Islam in Australia.
In the wake of the 2008 bush fires in Victoria, which claimed the lives of 173 people, Nalliah claimed that he had received a prophetic dream that told him that the fires were because of Victoria's decriminalisation of abortion.
In 2011 Nalliah was interviewed by OUTinPerth about the launch of the political party. At the time OUTinPerth chose not to publish the interview, the interview was however published by the party.
Nalliah explained his belief that children needed to be protected from homosexuality and his belief that children raised by same sex parents suffered psychological knowledge. Nalliah said he didn't believe people had to be gay or lesbian as he'd met many people who found a new life through religion and gone on to be happily married and raise children.
The pastor described homosexuality as people "living beyond the bounds of morality". Nalliah said he respected people's rights to be immoral but it should be kept in private.
Today Pastor Nalliah described Kevin Andrews decision as a 'cop out', telling SBS News that all the politicians who had withdrawn from the conference were 'gutless'.
Graeme Watson