The importance of chosen family for the LGBTI community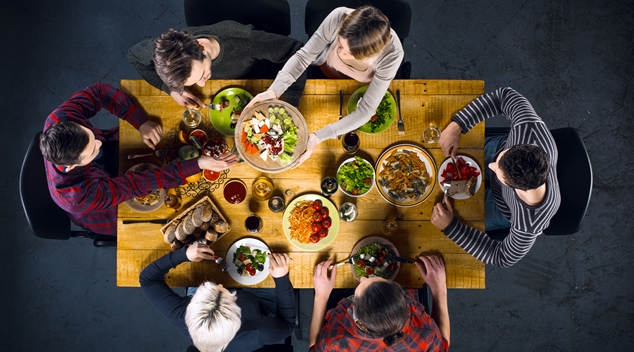 I came out to a friend recently as trans and non-binary. As they so easily checked in with me about my name, pronouns and overall well-being, I thanked them for being so understanding. I know I shouldn't have to thank someone for the basic act of accepting me for being myself, but being a part of such a marginalised group of people, it's almost instinctive to do so. Of course, they responded as any amazing human would with "you don't have to thank me; you're a good egg and nothing is going to change that." This conversation made me think about our relationship with each other, and although I call this person a friend, I told them I think of them more as family.
The idea that family can only be classified as the people who raised you and/or people you are biologically related to, to me, seems absurd. There are certain people in my life, though we may not see each other as much as we'd like to, who have helped form the person I am today. When, even after long periods of time, we do spend time together, the love and comfort I feel in their presence goes beyond friendship, it's family; chosen family.
Chosen family is so important for many LGBTIQ+ people. For some, it is all they have. When coming out to family, we want to believe the people who raised us will love us unconditionally, and not see us any differently, but unfortunately this is not always the case. Approximately 40% of homeless youth are LGBTIQ+, due to having been kicked out of home, or having self-selected out because of safety. Family acceptance is the most protective factor, particularly for young people. So, when someone experiences rejection from their family because of their sexuality and/or gender, it can have an extremely negative impact on their mental health and well-being.
Additionally, certain times of the year can be particularly difficult for LGBTIQ+ people who have faced family rejection and strained relationships because of their sexuality and/or gender, namely, family focused holidays such as Christmas can be a difficult time for people generally, where levels of depression, anxiety and loneliness increase in the general population. To add to this, a reminder of rejection at such a family focused time of year can be unbearable for many LGBTIQ+ people.
Precious family time spent together is often positioned as the ultimate goal during the festive season; a string of picture perfect moments filling our TV screens and shopping catalogues alike. However, not every LGBTIQ+ person has the love and acceptance of the family that raised them. It's important when we talk about family, particularly in the context of Christmas, we include images of chosen family as well, something so important to many LGBTIQ+ people. It's important when thinking about a future where we can fully accept ourselves, to know that our chosen family will be viewed on the same level as those we are related to and/or those who raised us.
Being a part of the LGBTIQ+ community, the term resilience gets mentioned a lot, and for good reason. I see resilience in my LGBTIQ+ peers every day, and for this I am proud. I think resilience really relates to the fact that we continue to create our own families by seeking and surrounding ourselves with people who accept us for who are, despite negative past experiences. I think it's important for LGBTIQ+ people out there who might not necessarily have a supportive family network to know that there are people out there who will love you unconditionally, regardless of your gender and/or sexuality. How other people treat you doesn't define you. It is possible to surround yourself with people who love and support you and accept you for who you are. Sometimes, you'll be surprised at the level of support and validation you receive from those around you.
I don't think my friend will ever truly know how important it was for me to hear those kind words of support when I came out to them recently, particularly at this time of year. Their support for me has given me the confidence to start slowly opening up to other people about my identity and experiences. It has also played a part in me starting to put myself first when it comes to affirming my gender, and not letting other people's opinions deter me from being my authentic self. Though Christmas isn't quite here yet, I can honestly say I've already received the greatest gift of all; a loving and supportive chosen family that continues to grow, and for that I am truly grateful.  
Stevie Lane
---
Do you need some support?
If you are struggling with anxiety or depression, support and counselling are available from:
Lifeline: 13 11 14
Beyondblue: and www.beyondblue.org.au
QLife: and www.qlife.org.au
QLife are a counselling and referral service for Lesbian, Gay, Bisexual, Transgender and Intersex (LGBTI) people.
---
Support OUTinPerth
Thanks for reading OUTinPerth. We can only create LGBTIQA+ focused media with your help.
If you can help support our work, please consider assisting us through a one-off contribution to our GoFundMe campaign, or a regular contribution through our Patreon appeal.