Cirque Du Soleil's Kooza: Send In The Clowns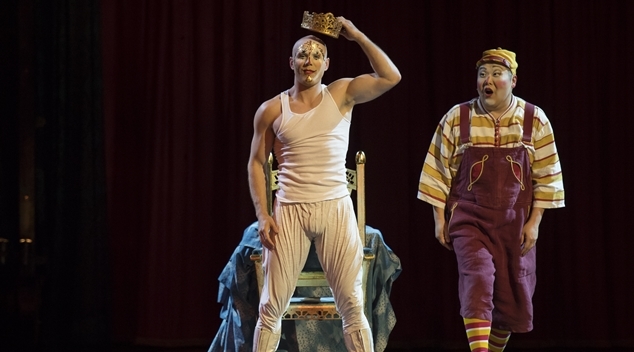 The inimitable Cirque Du Soleil is returning to Western Australia with Kooza – a return to the origins of the world famous Canadian circus.
A fusion of the classic circus traditions of acrobatics and clowning, Kooza highlights the physical prowess of human performance in a colourful melange of splendour and humour.
US performer Aaron Felske dons the mantle of the Trickster in what Cirque have described as one of their most physically demanding shows. Felske caught up with OUTinPerth to talk about how he got involved with the world's most famous circus and what Perth can expect from the show.
As someone who studied the theatrical arts, was Cirque Du Soleil always your end game?
I've always wanted to be somewhere I felt artistically fulfilled and this is definitely one of those places. I feel challenged and that I can contribute the skills i've honed in college and throughout my career. I can utilize them in every respect with this show. It's a world class, if not the best, circus in the world. To be a part of that was definitely enticing and I'm just lucky to be a part of it.
Cirque has done dozens of shows now, describing this one as the most "physically astonishing" – does that bold claim stand up to scrutiny?
Acrobatically it's pretty astounding, yeah! We have people in the audience gasping out loud and clutching their loved ones. The last act is a teeterboard act with roughly fourteen artists on a seesaw type apparatus getting launched into the air and doing multiple flips and all sorts of dynamic acrobatics and that's just one part of the show.
How does your character fit into the world of Kooza?
I understudy the Trickster character who is the lead ringmaster if you will. He really is in charge of creating this world so it's a demanding character physically but I'm also acting and dancing – as well as acrobatics. For me, it's a little more stressful because he's a main character so I have to have the strength to carry that for two hours which can be quite demanding.
When I don't do that character, I'm in the house troupe which is essentially an ensemble type of role that creates the atmosphere which is a lot of fun because I get to work with the team and get into it. Sometimes for me the lead character can be quite lonely because I feel detached from the rest of the cast, where as when I get to do the house troupe I'm much more a part of the group.
The show is also described as a tribute to traditional circus – Does that mean you have to tone it down?
It's more traditional in the sense that there's more comedy from the clowns, but still incorporated with Cirque acrobatics. So they've gone back to their roots from when the company first started, but I wouldn't say they've toned it down, but rather mixed the drama and comedy, which I think is a great thing because when there's too much of one thing it can become exhausting.
So we can still expect big crazy avant-garde costumes and set pieces?
Absolutely! The makeup too. The makeup I have to put on for the Trickster takes me an hour and a half, and I've been on this show for a year so it's very elaborate. They really take pride in the costumes and all that stuff, it's all hand made. My costume must be hundreds or thousands of dollars being made in Montreal and fit to my body – they're all custom made and the attention to detail is exquisite.
Cirque Du Soleil's Kooza will be at the Belmont Park Racecourse from April 13th – June 11th. Tickets and more information available from cirquedusoleil.com
Leigh Andrew Hill
Image:- James Morgan