Review | 'Colossal' reminds us we write our own stories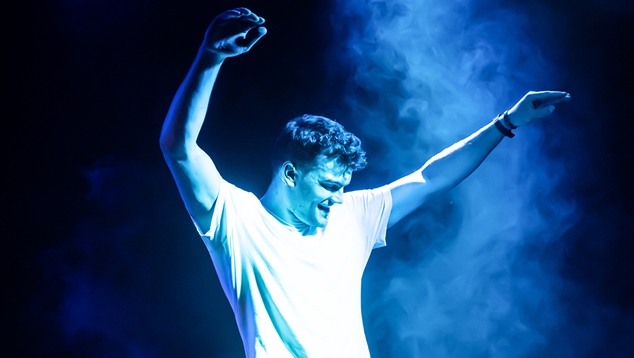 Colossal | The Chalet | til Feb 2 | ★ ★ ★ ★ ★ 
Fringe is my favourite time of the year in Perth, second only to Pride in November. Fringe World's hot breath on PrideFEST's neck, giving it a playful kiss and whispering words of desire that give us all goosebumps! Fringe brings everything I love about Pride – The colour! The artistry! The eclectic crowds! The drag queens! The bravery and vulnerability! All forms of nakedness! – and is another month where Perth, Northbridge in particular, really shines and makes me proud to be a part of it.
I chose this performance after considering what my English, heterosexual, middle aged, male partner who is an endearing mix of naïve and traditional, may actually enjoy coming to see with me. A novel approach, agreed, but it certainly paid off for me! My partner and I saw Colossal. Patrick McPherson is a one man tour de force fresh from the Edinburgh Fringe with the Best Show Award for 2022!
As we sat outside the venue after the show, drinking our Matso's beverages from the handy, dandy pop up bar my beloved and I discussed what we had experienced. My lover was in awe of Colossal as a whole, the physicality and the skill involved in performing non-stop for an hour – spoken word, full body expression, loud exclamations and quiet confessions. Dialogue sung in parts, which the Fringe website says is original music – the talent here borders on ludicrous! My partner mused that a larger venue may have been worthwhile; I'm sure Colossal could fill one! The show does lend itself to intimacy and depends on the performer's ability to engage with the audience, but Patrick McPherson is so compelling that the relationship he builds with his audience could doubtless be duplicated by him on a larger scale.
This performance resonated with me on so very many levels and provoked a myriad emotions but also many thoughts. It's a piece that will stay with you after the final bow is taken. I am passionate about storytelling and story tellers, and McPherson's Dan is a charming one. Not unpleasing to the eye and with a voice and accent that is soothing to listen to, he lulls you into a nice guy romantic comedy, tragedy, fantasy before you know it and when truth – one version of it – rears it's ugly head it is a deflating and demoralising betrayal, with the disquieting discomfort of knowing we ourselves contributed to the culpability.
Colossal is touted as being about 'love stories and how we tell them' but I found it so much more than that! To me, Colossal is about the stories we tell others and the ones we tell ourselves. How our internal dialogues shape who we think we are, as much as what we say aloud gives others the impression of who they think we are. To distract ourselves with fairytales or to seek out genuine connection – with ourselves, others, our lives and place in the world, that is the question. I'm as guilty as anyone of seeing what I want to see and hearing what I want to hear in matters of the heart but Colossal reminds me that there is choice. We are the authors of our own stories, ultimately, with the decisions we make.
A huge shout out for the bisexual visibility and representation – or pansexuality, who knows? The character of Dan's sexuality is never actually pigeonholed or defined, he simply recounts romantic relationships with men and women. It's not a theme of the performance, to the extent that it's almost incidental and in that way it is masterful. It is just a fact about Dan, akin to telling us he has dated both blondes and brunettes and I genuinely wanted to cheer for how this aspect of Dan's life was portrayed.
I can only echo what the Fringe reviews and reacts and the Edinburgh Festival Best Show of 2022 have said; this is a magical piece of theatre and a must see of Perth's Fringe World Festival!
At the end of the performance McPherson mentioned he has a second show running during Fringe, with his twin brother, called Pear. I'd like to state for the record that if OUTinPerth needs a reviewer for that show I'm happy to volunteer as tribute, please and thank you.
Great show, highest rating, go see it!
Colossal is playing in the Perth Cultural Centre until Feb 2. Tickets and more info available from fringeworld.com.au
Kate Salinger is a proud PFLAG+ Perth Mum, with a once upon a time background in dramatic arts. Kate enjoys writing and photography and active resistance of oppression. 
---

You can support our work by subscribing to our Patreon
or contributing to our GoFundMe campaign.