Comedian Robyn Perkins brings her show 'Million Dollar Maybe' to Fringe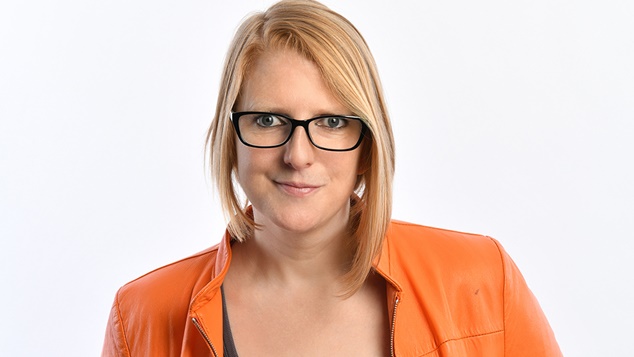 Comedian Robyn Perkins is in Perth bringing her show Million Dollar Maybe to Fringe World.
"It's two stories that I weave together." Perkins tells OUTinPerth just days ahead of her opening night. "One if my love story, and realising that I'm bisexual, and spoilers – falling in love with my girlfriend.
"The flipside of that is that I have a background is science, and a scientific article was published in July of 2020 from someone who felt the need to prove that bisexuality exists – in 2020!"
"Obviously I was shocked when I read it, the show goes through my reactions, it breaks down the article and then I eventually ZOOM with the scientist to talk about it, and there's clips of that in the show."
"The show talks a lot about bi erasure, both from the point of view of the article, and what the article was doing, and why the author felt the need, but also on a personal level.
Perkins says bi erasure is one of the reasons she didn't become fully aware of her own sexuality until later in life, she recounts growing up without any awareness that bisexuality existed and a lack of role models.
"When I was growing up there was just nothing. It's just one of those things where I just didn't consider it as something people were." Perkins said.
Having grown up in the USA, Perkins comedy career began in her adopted home of the United Kingdom, and it was something she began on a whim.
"I was working in an office and a friend of mine decided to do a stand-up comedy course, and was like 'Hey, do you want to join?'" Perkins shared.
At the end of the short course the participants had to take to the stage and deliver a short set, and while she hadn't excelled during the workshops, once she hit the stage Perkins surprised her classmates by nailing her set.
"I was not very good in the class, everyone thought I was going to be absolute rubbish, but once I got on stage something just clicked."
"I was never the class clown, but I always had to be funny in my storytelling.' Perkins said when asked if she'd always been funny. "I think it's because I have a very intense American family. Nobody asked you how you were feeling, if you wanted people to know you had to speak up and fight to get their attention."
Million Dollar Maybe is on at Fringe World from Thursday 9th February. Tickets are on sale now. 
Graeme Watson
---

You can support our work by subscribing to our Patreon
or contributing to our GoFundMe campaign.