Concerns emerge as company behind Australian LGBTI Awards liquidates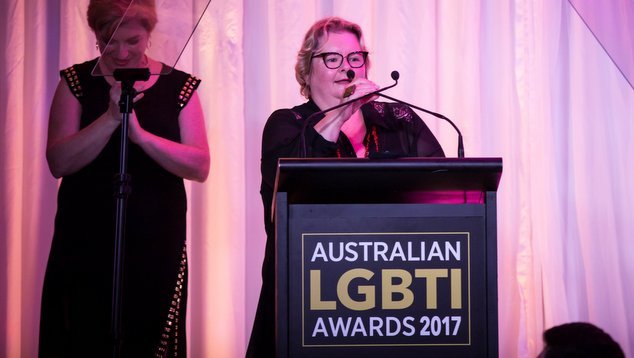 The future of the Australian LGBTI Awards are in doubt after the operating company Twin Media Group begins the liquidation process.
ABC have reported that the largest ceremony of its kind in Australia is in limbo due to "poor strategic management"and "infighting between the two directors."
The awards, run by Twin Media Group directors Silke Bader and Linda Riley, came to Australia in 2017, also launching a separate celebration in New Zealand. Past winners include veteran activist Peter de Waal, Magda Szubanski, Kerryn Phelps and Bindi Irwin for LGBTI+ Ally of the Year.

Documents released by the courts have revealed Twin Media Group owe $174,695 to Bader and her other company L Media – the publisher behind the long-running Lesbians On The Loose. Riley is appealing the liquidation order, saying that the process begun without her "knowledge and consent."
Riley's affadavit also claims "increasingly contradictory financial reports" were delivered by Bader, which Bader denies.
LGBTIQ+ Australians have responded swiftly to the news, calling out the Australian LGBTI Awards for its 'suspicious behaviour.'
Activist Sally Rugg, a nominee for the Hero Award, wrote on Facebook that the event was a "scam."
"The community winners have been extremely deserving and that's why so many people have stayed silent, to not detract from their recognition and rightful celebration, but the Australian LGBTI Awards are data-farming, corrupt, financial scam that takes advantage of the pride we have built for ourselves in our community," Rugg wrote.
‬
"They 'nominate' people with large social media followings who are then meant to ask their friends to 'vote' for them, mining a huge email list which they *sell*."
"Oh, and remember that time Karl Stefanovic 'won' an ally award because he *apologised after being transphobic* I'm unsurprised by this to say the least."
Others have noted similar behaviour at the sibling ceremony in New Zealand, with journalist and TV personality David Farrier recounting his experience at length in an article for The Spinoff.
The next Australian LGBTI Awards were due to go ahead February 28th 2020.
OIP Staff
---