Connor Crawford on the organised chaos of Peter Pan Goes Wrong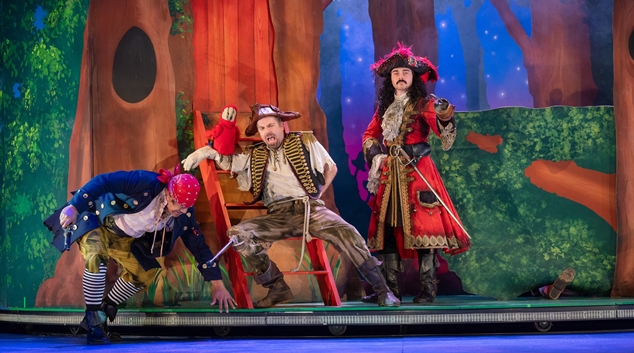 Tripping over the heels of The Play That Goes Wrong, the fictional Cornley Polytechnic Drama Society return to Perth with their own very special version of a family favourite.
Peter Pan Goes Wrong takes audiences back to Neverland, with a cast of actors who just can't seem to get it right. If you didn't catch The Play That Goes Wrong – think technical hitches, cast disputes, wayward props and disastrously hilarious results.
Actor Connor Crawford (Molly, American Idiot) features as Cornley Polytechnic Drama Society director Chris – who also appears at the patriarch of the family Darling and the dastardly Captain Hook – gave OUTinPerth the lowdown on how to make the best, most terrible theatre.
"I'd actually first seen a version [of Peter Pan Goes Wrong] on the BBC," Crawford tells us.
"It was actually performed live on the BBC which was pretty incredible to see. So I managed to watch a version of it there with the original cast and it was one of the funniest things I'd ever seen."
Like The Play That Goes Wrong, the choreography demands very precise action to make sure the high-octane farce runs smoothly. Crawford says that the technical aspect of the show was quite daunting when he signed on to the cast.
"It certainly is to begin with. We spent about five weeks in rehearsals so after those five weeks when you've figured those intricacies out, they become a lot less complicated. Definitely it is daunting when you first see the show – you wonder how are you going to be able to live up to those prerequisites set by the previous cast."
When asked if a play that is supposed to go wrong goes wrong, Crawford had a succinct answer.
"Only when we want it to!" he laughs, admitting that things inevitably don't always go to plan.
"It's nice to be part of a show where if something does go wrong the audience isn't really going to know any different. It's a really nice place to be."
Crawford says that while it's reassuring to know that audiences are less likely to notice unplanned mishaps, deviations from the script are rare due to the precise nature of the production.
"Because of the chaos that happens, there's very little that could go wrong without the audience catching on," Crawford continues.
"We do a lot of falling over and all that kind of stuff. It's generally just bruising that we all get. There's not much that goes wrong because it's very organised chaos – if it's not we're in real danger of hurting ourselves and others."
Though stepping into a comedic role in this turn on stage, Crawford has made a name for himself on Australia's musical theatre circuit. Most recently, Crawford appeared in the Green Day rock opera American Idiot and even took on the role of music icon John Paul Young in the mini-series Molly.
"Normally I'm used to singing in musical theatre – two hours of show-stoppers, but we've only got one in this show so it's good for the old voice," Crawford said.
"It's really nice to sink my teeth into something – although it is comical – a dramatic role I suppose. It's nice to step away from musical theatre for a hot second."
For those who haven't seen The Play That Goes Wrong, Crawford politely compares the vibe of the show to a piece of community theatre.
"The way that I would describe it is; essentially it's like you're going to see a piece of community theatre and all of the people you're going to watch are very passionate about what they're going but they're not necessarily the best at executing their vision. I think that's where the comedy comes from."
"At heart it is really an underdog story. I think through All the trials and tribulations of these guys just trying to get their show done there is a true underdog element to it. I think by the end the audience will be rooting for the cast to finish the show because it's all they want to do."
Peter Pan Goes Wrong will be at His Majesty's Theatre from 7th – 17th March. Tickets and more information available from peterpangoeswrong.com.au
OIP Staff