Conservative outrage as child drag star pictured with near-naked drag queen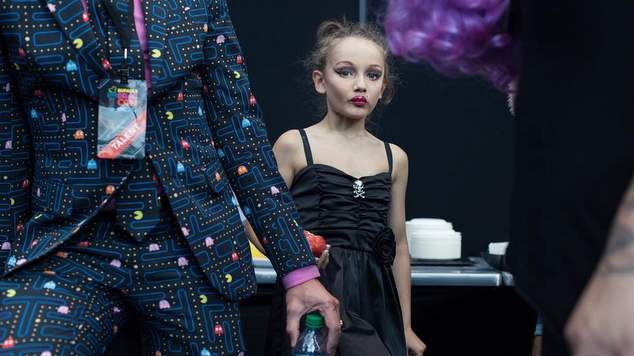 Social media commentators and aspiring conservative politicians are up in arms over a now deleted image which showed a child drag star appearing next to a near-naked Violet Chachki.
Ten-year-old Canadian Nevis Quinn Mélançon-Golden has received global recognition as a child drag star. Quinn Mélançon-Golden performs as Queen Lactacia, and the youngster's drag aspirations are supported by his parents.
Huck magazine recently ran a feature on the young drag star and his family. Follwoing pubication of the article journalist Jonathan Turton shared an image of youngster on his Instagram account, the image was not used in the published article.
The photographed showed the 10-year-old standing next to RuPaul's Drag Race winner Violet Chachki. In the picture Chachki is naked sans high heels and a piece of black material covering her genital area.
Conservative commentators took to social media to express their outrage over the image. Sky News Australia commentator Daisy Cousens said the image was child abuse.
"Anyone who knows me will tell you that I love drag, have seen many a drag show, and known many a drag queen. But standing a little kid next to a naked man while looking coyly over his shoulder crosses a very very opaque line. Drag is an ADULT world. This is child abuse" Cousens posted to Twitter alongside an emoji of an angry face.
Australian Conservatives NSW senate candidate Kirralie Smith, who heads anti-transgender organisation Binary, called for those involved in the image to be arrested. Smith said the image of the youngster standing near the almost naked drag queen was "pure evil".
Turton has subsequently removed the image and responded to the controversy saying he now realises the photo was distasteful for many people. He says however that he stands by his article in Huck, encouraging people to read about Nemis's story.
The controversy follows criticism of eleven year-old-drag performer Desmond is Amazing appearing at a New York bar. In December the young performer made an appearance at Brooklyn gay bar Three Dollars.
Desmond was accompanied by his mother and father during his appearance at the venue. During his performance partons gave him dollar bills – as is the custom in the USA. Critics of children performing drag said it was inappropriate for adults to give money to a child in the situation and described it has sexualising a young child.
Desmond's parents were hit with a series of death threats after their address was posted online and hundreds of people reported them for child abuse to New York's Administration of Child Services.
OIP Staff
---