Cott Film Fest reveals 2019 program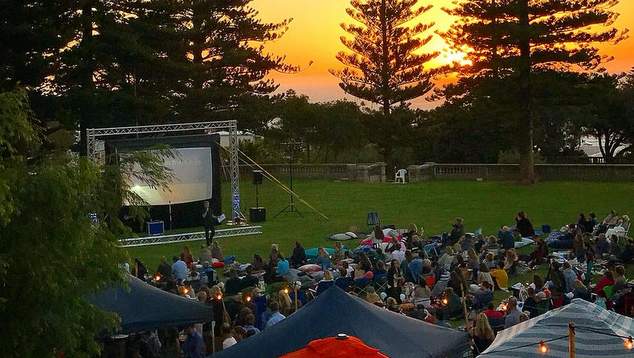 Summer's here and outdoor cinemas are springing up all over the city. From car park rooves to parks and reserves, there's so many opportunities to catch up on some of newest films, or those you missed at the cinema, under the stars.
One film festival you might not have come across before is the CottFilmFest, held over three consecutive weekends in February the festival has a variety of films that will meet the desires of every kind of film lover.
Opening Friday 1 February with the award-winning WA-made drama Breath, the festival has a healthy mix of local and international films, mixing studio and independent tiles.  
Festival founder and director Miranda Edmonds gave us a run down on what's on the program for 2019.
Edmonds said Simon Baker's directorial debut Breath was an obvious choice to open the Festival.
"At CottFilmFest, we are proud supporters of WA films. Seeing ourselves and our community reflected on the big screen is an important part of forming and defining our culture, and that is what Breath does. It is a stunning film and an important part of our Western Australian identity," Edmonds said.
"I have never seen a film that makes it feel like you are really out there in the big swell of the Indian Ocean – it is visceral and thrilling!"
Based on Tim Winton's award-winning and international bestselling novel, Breath saw Baker pick up the Best Supporting Actor award at the ACCTA Awards earlier this week.
"My aim in establishing CottFilmFest was always to bring world-class cinema to my hometown, or in the case of Breath, promote world-class films that have been made in our own backyard."
At the other end of the spectrum, the film program includes two female-centric comedies that could not be more different.
"We have two great comedies The Party and The Breaker Uperers. Both films are directed by females, and with an all-star cast are guaranteed to deliver the laughs.
The Party is an award-winning tragicomedy from acclaimed British filmmaker Sally Potter. Janet (played by Kristin Scott Thomas) hosts a party to celebrate her appointment to Health Minister – the crowning achievement of her political career. When the guests arrive however, it becomes clear that not everything is going to go down as smoothly as the red wine. love, friendships and political convictions are soon called into question in this hilarious comedy of tragic proportions.
Far from The Party's sophisticated soiree, it is the heart-warming yet raunchy Kiwi comedy, The Breaker Upperers. Written, directed and starring Madeleine Sami and Jackie van Beek, the film is a riotous and, at times, unapologetically vulgar film. It tells the story of two romance cynics who run an agency breaking couples up for cash using elaborate schemes. The film was incredibly popular when it screened at the Revelation Perth International Film Festival in 2018, and if you didn't see it then – here's your chance.
"On our middle weekend, we are delighted to be screening Jirga – Australia's submission to 2019 Best Foreign Language Film Oscar," Edmonds said.
"Jirga is a visually stunning film, and shouldn't be missed on the big screen. The images will stay with you forever."
Made under extraordinary, and extremely dangerous, conditions, the film tells the emotional story of a former Australian soldier who travels to Afghanistan to seek forgiveness. In August it won CinefestOZ's highly coveted $100,000 Film Prize.
"To celebrate the new school year, we are excited to be hosting another fun family night with Mary Poppins Returns. Thanks to Swan River Ballet, children will be able to enjoy musical performances and kite activities," Edmonds said.
"For our closing night event on Saturday 16 February, we will be embracing all things disco, with the behind-the-scenes documentary, STUDIO 54 and a special DJ performance. It should be a fabulous night, and we expect it to sell out quickly," Edmonds said.
From 5pm each night, guests can enjoy live music and a picnic dinner on Cottesloe Civic Centre's beautiful manicured lawn, while watching the sun set over the Indian Ocean. In addition pizza and John St Café's highly-sought after Italian donuts and coffee, guests can now choose from a delicious array of burgers, burritos and nachos from the street food gurus, Clean Tasty Dirty.
Part proceeds from the festival are donated to the Cottesloe Coastcare Association, as well as North Cottesloe Primary School.
Tickets and gift certificates go on sale Saturday 1 December. Find out more at www.cottfilmfest.com.
Source: Media Release
---