Craig Stott on the humanity of Holding The Man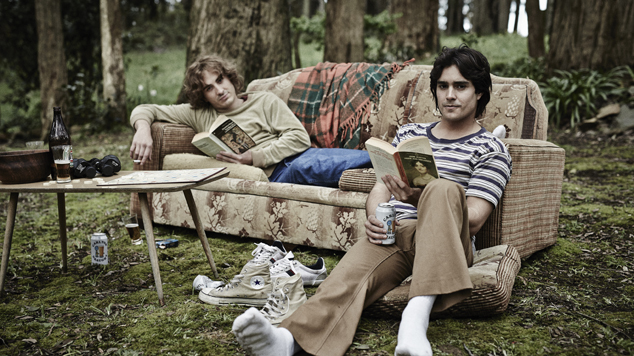 Author, actor and activist Timothy Conigrave's magnum opus 'Holding the Man' is a hallmark of Australian literature. Originally released in 1995, the memoir recounts Conigrave's journey – the great joy of love and infinite pain of loss, following his turbulent relationship with high-school sweetheart, footy team captain John Caleo as they face life's challenges as gay men, and later as people living with HIV, between the 70s and the 90s.
Conigrave's novel painfully recalls losing his partner John to AIDS-related illness, all the while dealing with the decline of his own health to HIV. The novel is unabashed in its expression of just how devastating an effect HIV/AIDS had on the gay community in the 1980s. Conigrave himself lost his own life to AIDS related complications, soon after completing the book.
Since its release, 'Holding the Man' has seen great success both as a novel and in its adapted stage format, bringing Conigrave and Caleo's story to the world. Now, two decades after its original release, 'Holding the Man' will see a cinematic release with out and proud Australian Neil Armfield in the director's chair.
Armfield's interpretation is as honest and beautiful as the novel, drawing incredible performances from Australian talent both new and wisened. Guy Pearce, Anthony LaPaglia, Geoffrey Rush, Camilla Ah Kin, Kerry Fox and beloved up-and-comer Sarah Snook bring a fluid synergy to the ensemble, supporting Ryan Corr and Craig Stott's captivating representations of the iconic relationship Timothy Conigrave and John Caleo.
Craig Stott, a sickeningly talented Melbournian actor, cemented his role as John Caleo when Neil Armfield noted "he's got the right eyelashes". Stott's performance as Caleo is so deeply nuanced, I felt as though I was reliving one of my own high school crushes. Stott spoke to us about why 'Holding the Man' is such a relatable story, from an Australian perspective and as a story of love that transcends the bounds of sexual orientation.
"I didn't fall in love in high school, I didn't have a high school sweetheart," Stott explained as I asked how closely he related to John and Tim's experience. "I went to a Catholic school just as John went to a Jesuit all-boys school… I didn't really pay attention, where as I imagine John paid meticulous attention to all of his studies."
Caleo was a notorious supporter of Essendon Football Club, the inspiration for Conigrave choosing 'Holding the Man' as the book's title – a reference to an AFL penalty. Getting into football would be the first challenge for Stott as he prepared for his role. Stott explains it was the little things that made Caleo so special, challenging the actor to explore all of the aspects of his life to truly capture his character.
"He wasn't a very complex person with striking, over-arching ambitions. He wasn't a boisterous or flamboyant character in the way that Tim was, to try and create a character that was really understated, that is who John was," Stott elaborated, "I was always pulling it back. John really comes through in the subtleties, he's bubbling under the surface constantly."
Stott certainly encapsulated Caleo's subtleties, though his passion certainly came through in his love for Ryan Corr's Tim.
"There was a point in rehearsals where we weren't really being physically intimate with each other and I really wanted to dive in but I didn't know if he was trepidatious, so I said to him 'Do you wanna just go for it?' and he was like 'Fuck yeah!'", Stott said of his on screen relationship with Corr. "He took me to dinner with his family as his boyfriend and they didn't know it was for a film. We just jumped into each other's stride. On set he was my go-to, the one I was looking for, very much like John would have been looking for Tim."
Fervidly political, Stott is excited to represent the LGBTIQ community on screen. Identifying as queer himself, Craig expressed his dissatisfaction with Australia dragging its feet on marriage equality.
"Hopefully this will rally the masses to the struggle that we have coming up in August," said Stott, "I think in terms of the timing of the film being released, it's incredibly fortuitous. Ultimately what needs to happen is a psychological revolution before there's any sort of political revolution and that happens through people watching films like this and being able to relate on a very human, simple level – two people who are in love who just happen to be boys."
Leigh Hill
Amnesty International Australia LGBTQI Action Group will be hosting a screening as part of PrideFEST on Wednesday 16th November at the State Library of Western Australia at 6pm. Tickets available from Eventbrite.