Cruel to be Kind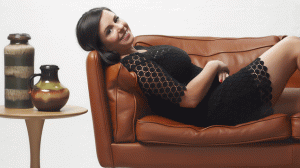 Myf Warhurst has been tickling us with her quirky take on all things cheesy since her Triple J Drive days.
We loved her kitsch trivia back then, and we're set to love it all over again when the ABC airs Nice on Wednesday June 13. Her latest project will take us on a cultural crusade to explore some of Myf's favourite moments in music, food, photography, fashion and design.
Myf's been wrangling rock stars and other showbiz luminaries as a team captain on ABC TV's music/comedy quiz show, Spicks and Specks for the last seven years. After 277 episodes, she left the show on a high with the Spicks and Specktacular finale tour. Since then, Myf's been living like a local in London. Kathryn Tenger caught up with her to talk about Nice and what might be next on the agenda.    
Hi Myf how are you, and where are you?
I'm great – but it's really rainy here in London. I've spent three months here with my boyfriend which has been the first break I've had since I started working as a teenager. It took a while to get into it but into the third month I was really getting used to it. We've been really lucky in that Adam Hills spends half the year here and let us use his place.
I'm a huge fan from the triple J days. How has life changed from your (predominantly) radio days?
It hasn't changed at all. I'd like to say I'm being chauffered around in a car but I'm not. I'd like to be like one of the celebrities getting that treatment, but sadly I'm not.
Do people recognise you on the street more than the radio days? Are you super famous now?
Yes I guess they do, but I've got to say, my fans have been lovely, really respectful. Not at all like some celebrity fans, who I hear drunkenly follow you in the street and yell your name in public.
Where did the idea for Nice come from?
Well you know me, even from the radio days it was all about nice and cheesy things that I liked. I combined a bunch of ideas and pitched the show and we had a great time. I really wanted to do a show about all of these things and ideas which were not necessarily good but 'nice', things that were maybe even seen as bad, but represented a time and a really key part of our cultural past. For example, Ken Done was so prolific and popular but faced a lot of criticism in his time. I think looking back that we need to recognise his contribution as vital to '80s culture.
Nice is all about these things – all the important nice things that defined memorable moments in our past that made an impact and made us happy.
You say that on the way, you realised that even though you were a little ashamed about some of your early life experiences, it dawned on you that on closer inspection, 'popular' should not necessarily be a dirty word.
Like I said– popular sometimes becomes a dirty word – even when the contribution of something or someone popular to the time is critical to shaping that time.
I think like with everyone too, the fabric of my youth shaped my tastes as they are today, and it was really important for me to celebrate that. Across the 6 episodes I explore everything from the awkward family portrait and the deep fried dim sim, to questionable fashion choices and cheesy 80s love duets.  It was really nostalgic for me, and I think it will be really nostalgic for viewers too. I certainly hope it will be.
The show covers icons of pop culture, challenges the snobs, talks to everyday Australians and rights some cultural wrongs. It's essentially an informative, occasionally embarrassing, but hopefully entertaining celebration of suburban pleasures and everydayness. I'm hoping my journey will resonate cross-generationally too – because we've all been there.
What was the highlight of the series for you personally? Was there an episode, segment or interview that left you particularly tickled or falling about the floor laughing?
I loved meeting the Chiko Roll chick! Wasn't she fabulous. Those posters of her on the motorbike were everywhere. She was actually the hardest person to track down but when we did, it was fantastic… and do you believe she was only a suburb away from us in Melbourne.
Yes and how ironic that someone who wore microshorts and suggestively held a Chiko Roll on a Harley, is so stylish and classy now in real life.  
Yes she says in the series that she was mortified when she saw the wardrobe, but now she is a successful interior designer and so, so stylish.
Your reconstruction of yourself as the Chiko roll girl (complete with the same micro shorts and low cut top) is hilarious. Did you laugh all through the shoot?
It was awful!! I hated it. I can't believe it was my idea. And I can't believe it took 15 hours to get that one shot.
How was it meeting Kenny Rogers and singing with him – does it trump playing chopsticks with Chris Martin?
I loved both, I think I would have to say though that singing with Kenny Rogers did trump playing chopsticks with Chris Martin. It was an awesome experience being able to meet a childhood idol and sing one of the cheesy love duets that defined my youth (Islands in the Stream).
Did Kenny live up to your expectations?
Yes, he was awesome, but he doesn't quite look the same does he? I think it's very self evident too. In all though, whoever gets to meet their teenage idol really, it was a real blast!
Nice has its debut on ABC1 on Wednesday June 13
Kathryn Tenger