Culture Club films video for new song 'Let Somebody Love You'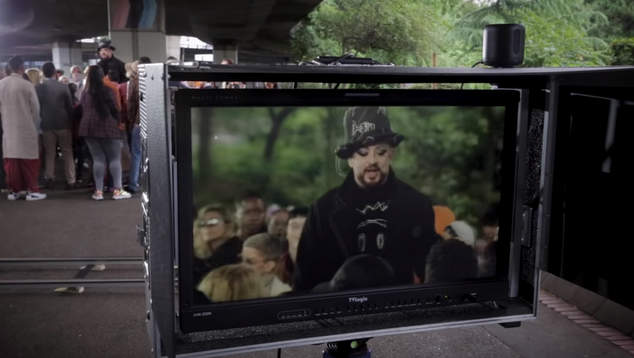 Culture Club have given fans a sneak peek of their new video for Let Somebody Love You. 
The band have released a behind the scenes video of the clip being shot. In the video Boy George explains that they wanted to create a protest scene that celebrated the good things in life.
"The video is a celebration of protesting," George said, "but it's turning protesting on its head, rather than protesting and complaining we're going to be angry but in a productive way. So the idea for the video for Let Somebody Love You is to say 'why don't you talk about things you love rather than talk about things you hate.'"

Take a look behind the scenes.
The song is the first single from the band's new album which will be called Life. It will be released via Boy George's own VG Records on 26th October.
Culture Club had previously recorded 18 new tracks for album called Tribes that was scheduled to be released back in 2015 – but the record was shelved and the band headed back into the studio. Just one single More Than Silence was released from the sessions
The band have been playing shows around the world to rave reviews. They visited Perth three times over the last two years playing shows at Challenge Stadium, Fremantle Arts Centre and the Perth Arena.
Fans have gotten to know the band's new material via the live show, Let Somebody Love You was performed at their Challenge Stadium show back in 2016. It Can't Be Easy (Different Man), Resting Bitchface, Human Zoo and Like I Used To are some of the tunes fans have heard by going to the band's live shows.
The new album will be the band's first since 1999's release Don't Mind If I Do. It will also be the first album of original material to be billed as Boy George and Culture Club. The band began highlighting their front man in all publicity earlier this year.   
OIP Staff
---