'Cut Snake' is the new film from director Tony Ayres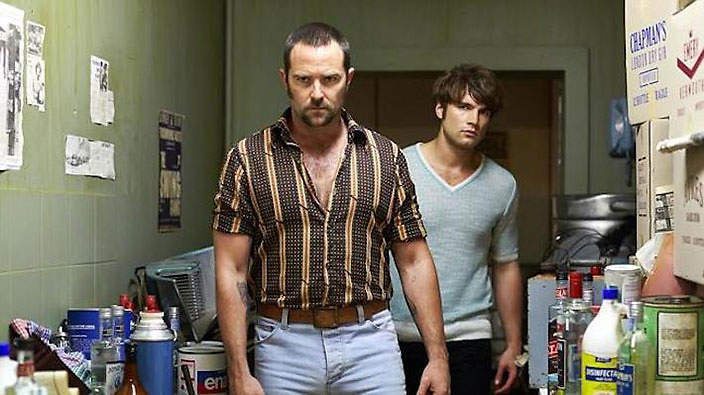 'Cut Snake' is the new feature film from Western Australian raised director Tony Ayres. It's seven years since his last feature film 'The Home Song Stories'  was released to critical acclaim, but this time Ayres as set out to make a very different kind of movie.
'Cut Snake' is a tense, psychologically driven crime thriller. Set in Melbourne in the mid-1970s it tells the story of Sparra Farrell,an ex-convict who is trying to make a new life for himself in a new city.
He's found a good job and has just celebrated his engagement. His  new life is threatened when his old cell mate Pommie tracks him down and tries to pull him back into a life of crime.
Having now established himself as a successful director Ayres had number of projects to choose from for his next film but he said he was drawn to 'Cut Snake' because of the characters
"I think for me it was the character of Pommie." Ayres said, "When I read his character on the page I thought, 'he is such a provocative, unusual, challenging, passionate and heartbreaking character, I would love to bring him to life.'"
Ayres is full of praise for Perth actress Jessica De Gouw who plays Sparra's fiance Paula. De Guow has most recently appeared as The Huntress in the American TV series 'Arrow'.
"I love Jessica De Gouw, I think she's a major talent and she's so good in the film."
Over the last couple of years the director-producer has built up his career becoming one of the busiest people in the Australian film and television industry.
In 2008 he joined forces with four other partners to create Matchbox Pictures. The company has made a plethora of television projects ranging from the TV dramas 'The Slap', 'Old School', 'Devil's Playground'  to teen series 'Nowhere Boys' and feature films.
The company is also producing the upcoming adaptation of Benjamin Law's autobiography 'The Family Law', recent ABC hit 'Glitch' and produces the 'Real Housewives of Melbourne'. Last year the company was sold to the US company NBC Universal.
"It's pretty crazy at the moment," Ayres said, "but it's a good kind of crazy, their all projects that I really like."
Ayres describes the last couple of years as a dream run and while it's taken him a while to release another feature film he said there's no longer an hierarchy between creative platforms.
"It's great to be able to make a movie, but I also don't think there is a hierarchy between movies versus television anymore. I think there's great TV and there are great movies."
The director agrees that many people in the entertainment business now see television as the medium that allows you to tell bigger stories.
"I think there are many people in the business who think that," Ayres said. "You just have to look at the flood of A-list actors and writers who want to work in TV now. It just feels like it is a great time for that, but having said that films are still wonderful and amazing, It's a very pure medium, but there are hard to finance, and they are hard to get people to come and see."
Ayres said the toughest part of making 'Cut Snake' was organising the film's financing,; "The hardest but was getting to money for it, once we were filming it was relatively smooth, it was a very smooth shoot."
From start to finish Ayres involvement with the story has lasted more than a decade. He first came across the script when it won a completion for unpublished film scripts at the Adelaide Film Festival in 2002. A few years later when it passed over his desk a second time he decided to option the script.
'Cut Snakes' release comes a new figures show Australian films are making up the highest percentage of the local box office in the last fourteen years. A stark difference to the state of play when Ayres released his first feature film 'Walking on Water' back in 2002. At that time figures showed that the average Australian film Director rarely got to make more than one film.
"I think its really important for us to celebrate these good news stories, because we have a cyclical industry, we don;t generate enough to make it any thing other than that, so we should tell these good news. stories. I think there's a handful of directors who are doing very well, but there's still not a lot."
One area of the film industry that does concern Ayres is the continuing lack of female directors.
"There isn't good statistics for female directors, it's really weak, I don't think we have a proud record in that, so there's still things for us to be working on." Ayres said.
'Cut Snake' is in cinemas now.