Damon Lockwood: No Ordinary Man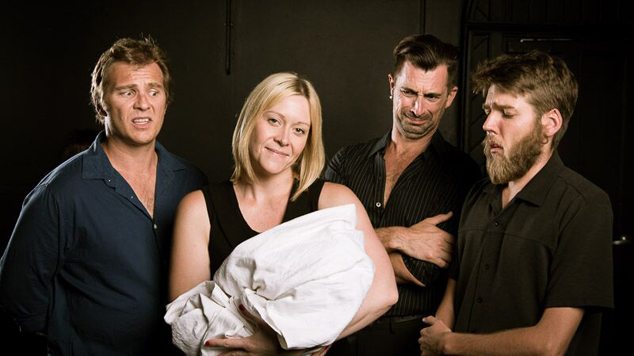 Local theatrical Renaissance man Damon Lockwood has got a busy couple of months ahead. He'll be remounting his critically acclaimed by 'Horsehead' as well as bringing forth the debut of a brand new production at The Blue Room. The director, actor and playwright took some time out from his busy schedule to chat about his projects with OUTinPerth.
'Horsehead' was first performed in 2008, and has gone on to have seven seasons and won Best Play at Rome Fringe Festival in 2012. Lockwood shared the unique story of how 'Horsehead' came to be.
"My youngest son was three weeks old, and my beautiful partner gave me some rubbish excuse about being really tired because she hadn't had a proper night's sleep in three weeks and she wondered if I could look after this thing by myself for the very first time in my life. And I went 'Of course!' How hard can that be?' I looked down at him and thought 'What the crap do I do with this?' and I thought 'He's my son, we're both men, the best thing we can do is watch 'The Godfather together'. Then the horse head scene came around, and I looked down at him and I said 'God, can you imagine the two guys that actually had to do that?' and bang, the thunderbolt hit and a week later I had the first draft. My little 3 week old boy gave it to me."

That little boy is almost eight years old now, and 'Horsehead' is making a triumphant return to Perth for the Independent Theatre Festival at the Subiaco Arts Centre. The play stars Lockwood himself and Sam Longley as a pair of hapless wannabe gangsters who must prove their worth to the mafia in a violent and gory fashion.
Lockwood is also bringing to the stage a brand new production, provocatively titled 'Jesus: No Ordinary Life'. He said he found himself inspired by the theatrics of Biblical storytelling. "Great stories, great writing, man. Awesome stuff. A guy who saves two of every species on the planet I mean that's just insanity. There's more species of beetle than all other insects in the world so he really did a fantastic job. I just think it's great storytelling, and peoples, given peoples' nature, have used it for their own base and nefarious things over time."
As the title suggests, the play delivers a vision of what possibly could have occurred to lead to Christianity as it is known today. While many writers would be daunted by the topic of religion and its tendency to attract controversy, Lockwood appears to have a healthy mixture of excitement and anticipation about the project.
"I think people can smell when people try to do something just for controversy's sake." Lockwood said. "We'll wait and see where the cards fall."
The cast of the show is made up of some of Perth's best actors, including Andrea Gibbs, Brendan Hanson, Talei Howell-Price, Nick Pages-Oliver & Sean Walsh. Casting the son of God is no small feat, but Lockwood said the choice was obvious. "Shane Adamczak as Jesus because of his pale skin, red hair and poor eyesight, I mean it casts itself, really, doesn't it?" he chuckled.
Lockwood said when it comes to theatre, his first consideration is always the audience. So what has he got in store for those who come to see 'Jesus: No Ordinary Life'? "I hope they have a fantastic night at the theatre, and to be presented with an alternative, an alternate story to one that has had so much impact on the course of history and humanity."
Sophie Joske
'Horsehead' is at Mandurah Performing Arts Centre on June 26th and 27th and the Cummins Theatre in Merredin on July 4th, details available at www.damonlockwood.com
'Jesus: No Ordinary Life' is at The Blue Room Theatre from June 16th to July 4th, tickets available from www.blueroom.org