Dance company Co3 gets ready to cross 'The Line'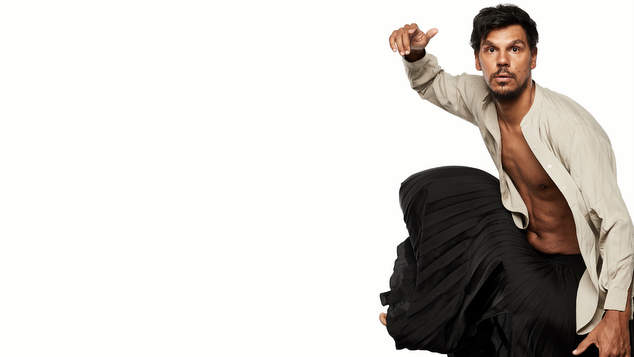 As contemporary dance company Co3 begins its fourth year, Artistic Director Raewyn Hill says she feels the company is entering a new phase.
"The last three years were about the inheritance our legacy, and establishing what we were going to be." Hill said, "How we were going to uphold the three parts of the organisation, the youth, the education and the main company."
"Now there's some clarity around where we are going next." Hill said, "I've always asked the same question, as a state company what are my responsibilities as an Artistic Director to the state? I'm really passionate about the fact that we're a state company.
"As we move forward the vision is to explore our communities history, culture, experience and people.  So when we move on to touring interstate we're going to be taking our state's culture and history to the rest of the world." Hill said.
Hill says the company's upcoming production The Line is the perfect example of finding a fascinating local story that potentially many people know very little about.
The Line is described as a story of segregation, confinement, abandonment and cross-racial relationships loosely-set in the 1930s in Perth.
To create the new work Hill worked with Co3 Australia Associate Artist Mark Howett this powerful dance-theatre work draws on the rich history that resulted from the enforcement of the prohibited areas for Aboriginal people in the City of Perth and other areas of Western Australia between 1927 and 1954.
On 18 March 1927, the Governor of Western Australia relied on the 1905 Act to declare the City of Perth a Prohibited Area for Aboriginal people.
Aboriginal people now committed an offence if they came within a boundary of approximately five square kilometres encompassing the city, after 6pm, unless they could show they were in 'lawful employment'.
In an attempt to discourage 'camp natives' from loitering, Chief Protector of Aboriginals, AO Neville, introduced a special 'native pass' to allow those Aboriginal people who had 'legitimate reason' to pass through the city.
During one of their regular Co3 collaborations Mark Howett relayed the story of the Prohibited Area to Raewyn Hill. They realised there was an opportunity for Co3 to bring to life an important local story, reflective of national and international experiences of racial segregation.
The Line also includes references to White City, a notorious entertainment area behind the Supreme Court Gardens, featuring swings, games of chance, boxing, log chopping, bands, canned music and dancing.
It was popular with Perth's indigenous people as well as the white population and considered a 'gambling blot' on the whole state, a den of inequity, a magnet for larrikins and loafers and a terrible menace to the youth of the city.
The 1927 Prohibited Area declaration, compelling those indigenous people not on "lawful business" to leave the city, gave Neville the excuse he needed to control the movements of Aborigines in White City and the Prohibited Areas.
Howett and Hill along with Co3 dancers Andrew Searle and Katherine Gurr and Guest Artist, Noongar dancer, Ian Wilkes have researched the period together during the development of the work. They have drawn on information from the State Records; Stephen Kinnane's family memoir Shadow Lines; and consulted with elders including Lynette Narkle, Richard Walley, Darryl Kickett and author Professor Anna Haebich.
"The Line began with us looking at the Prohibited Area, but the work initiates a global conversation about separation, segregation, and social expectations. We discuss humanity, and the quality of being humane, privilege and trauma, truth and listening, and importantly The Line is an opportunity for us to acknowledging the history that lives in the veins of so many of us that reside in our glorious city." Hill said.
"I believe, that in order to grow one has to go through a journey of truth telling, and to do that there needs to be acknowledgment, recognition and compassion. It is crucial so that that we actually start having a conversation about healing and equality.
"As we did more research we discovered that there were many areas in Perth that were prohibited areas including Victoria Park, East Perth, Leederville, City Beach and Fremantle."
Hill says the story is a great jumping off point to ask if there are still invisible lines in our society where some parts of the population know not to cross.
"Does segregation still exist? Is there still separation and boundaries today, this is why this particular story really begins to define us as a company, is that combination of a story that's not so well known but still has relevance." Hill said.
The Line, 15 – 19 May, Heath Ledger Theatre, State Theatre Centre of Western Australia, get tickets here www.ptt.wa.gov.au
Graeme Watson, image: Stefan Gosatti 
---