Darren Hayes kicks off tour in Perth with a hit-filled show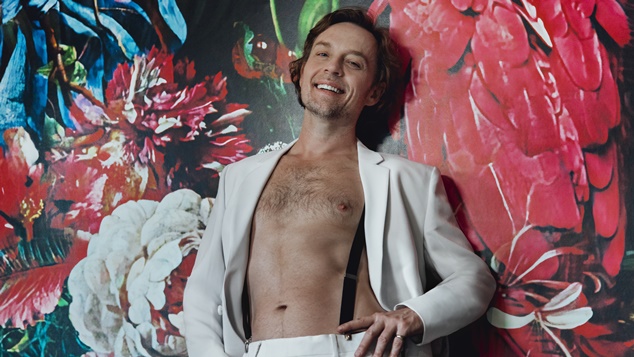 Darren Hayes: Do You Remember Tour | RAC Arena | 31st Jan | ★ ★ ★ ★ 
After taking a decade off from the music industry, Darren Hayes has returned with a celebration of his 25 years in the game. Tuesday night saw him play the first of 26 dates that will take him across Australia before heading to the UK and North America.
Hayes career began with a meteoric rise to fame, Savage Garden shot of the gates with back-to-back hits that saw them top the charts around the world. But after two top selling albums the duo pulled the plug, leaving Hayes to pivot to a solo career.
At the same time Hayes was dealing with the end of his marriage to wife Colby Taylor, as he came to accept that he was gay. Publicly acknowledging his sexuality would not happen though for many years as he dealt with record company pressure to keep his personal life private.
As a solo artist he kept fans happy with several albums of material that explored many different styles of music while firmly staying between the flags of pop and adult contemporary. Then he walked away from making music, a period that saw him out of the spotlight for a decade.
Last year he returned with possibly his best album to date. Homosexual was a declaration of who Hayes is, gay, sexual, homosexual. The acclaimed album is filled with dance inducing electronica and overtly sexual lyrics.
Like his idol Madonna, Hayes has morphed through different physical looks and musical styles over the years. The raven-haired singer from Savage Garden transformed into the blond solo artist and has continued to change both aesthetically and musically with each new album.
Which made me wonder, who was the audience at his tour coming to see? Were people aware of anything he'd recorded after Savage Garden? Were their audience members like me, who really only became fans of his work after repetitively listening to his most recent record?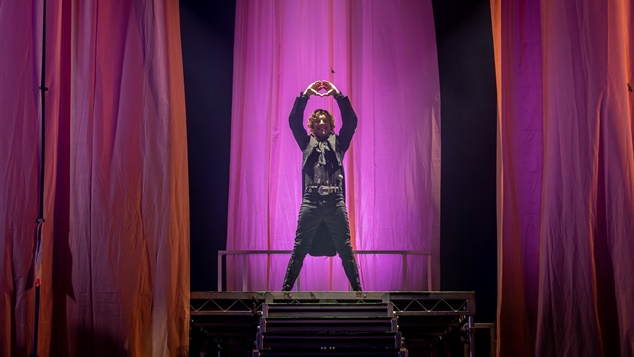 After a rousing set from support act Bachelor Girl, Hayes took to the stage, appearing at first as a shadow behind a curtain. "I'm the shy boy, you're the coy boy." he sang delivering an energetic cover of Pete Shelley's Homosapien. It could be argued that the title track of Hayes album is a direct descendent of Shelley's 70's declaration of man love.
Appearing from behind the curtain Hayes held his hands high above his head forming a love heart, and then performed a section of Savage Garden's Chained to You.  He then kicked the party off with the list loving song Affirmation. After decades of living in the USA Hayes' voice has more than a slight twang, his USA accent coming through strongly as he counted off all the things he believes.
Just like when he performed the song at the Sydney Gay and Lesbian Mardi Gras, the band paused for a second after he delivered the line "I believe you can't control or choose your sexuality." Joined by three backing singers Hayes delivered a dance routine, the first of many that would feature throughout the show.
The auditorium at the RAC Arena had been converted into a more intimate mode with the stage pulled forward and most of the seating curtained off, but it was clear that those who had bought tickets for the show were excited to see Darren Hayes return to the stage.
Next up was another Savage Garden hit The Animal Song, before moving into Hayes debut solo single Insatiable. The song was mashed up with Patrice Rushen's early 80's tune Forget Me Nots – which many audience members may have recognised more from its inclusion in Will Smith's hit Men in Black.  
All You Pretty Things from his latest album was up next, and then things got a little slower for the Savage Garden classic To the Moon and Back. Hayes added another queer reference to the tune with elements of Bronski Beat's Smalltown Boy being included.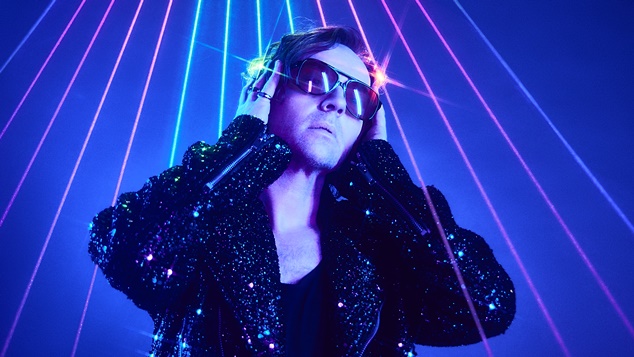 Speaking to the audience for the first time Hayes said, "Thank you for sticking with me all these years."  Next up was Savage Garden album track Two Beds and a Coffee Machine which saw one his backing singers acting out a sequence of packing a suitcase.
Hayes then took the suitcase and spoke about where his life was at in the late 1990s. Savage Garden were on a world tour when he spit up with his wife and began living as a gay man. He shared that the couple had found solace at the end of their relationship in the Madonna song the Power of Goodbye, pausing to sing a section of the Ray of Light track.
He then shared that after a year apart he met up with his former spouse and upon being given a suitcase of clothes and things he'd left behind, he realised he changed dramatically as a person since he'd begun accepting his sexuality. The anecdote led into I Don't Know You Anymore the song that closes Savage Garden's second album.
Poison Blood from the Homosexual record, led into To the Moon and Back, which was delivered with a section of Madonna's True Blue melded into the song. It wasn't the last Madonna musical moment in the show, but there were references to the Queen of Pop throughout. Hayes mimicked her dance moves, and the stage set up was very reminiscent of Madonna's Like a Virgin tour of 1985.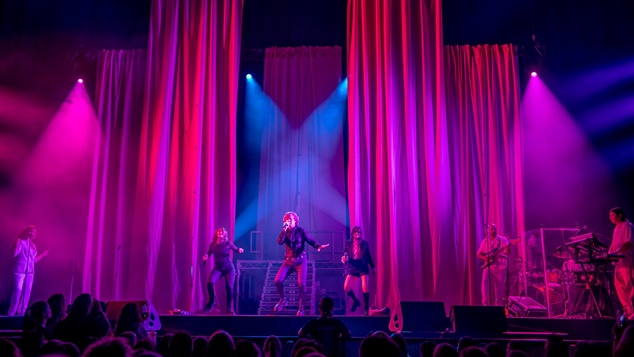 Lesser-known song Casey, taken from Hayes 2007 double-album This Delicate Thing We've Made, was a moment of treading water. Things picked up again when he moved into a series of tunes from his most recent offering.
In a slightly awkward interaction, the singer and one his backing vocalists acted out a phone conversation where they spoke about how audiences sometimes don't like the newer material, before introducing it as the "party section" of the show.
Do You Remember was quickly followed by Let's Try Being in Love. Hayes and his dancers were throwing shapes like mad, and the tiniest slither of Madonna's Vogue was included. As Hayes launched into the song's rap section singing "We can dance, or we can fuck" and "Got to see you naked, I just got to get you all alone", my companion turned and asked "Wait, what is he singing?" She was clearly only familiar with his Savage Garden declarations of wanting to love someone truly madly and deeply.
The party continued with solo hit Pop!ular presented as a mash-up with Mel and Kim's Showing Out, while the Savage Garden hit Break Me, Shake Me incorporated elements of Indeep's Last Night a DJ Saved My Life.       
As Hayes wrapped himself in a series of curtains, he sang Darkness. Then the singalong Dublin Sky was performed. The show wrapped up with two more Savage Garden mega-hits Crash and Burn and the song that is a staple of FM radio Truly Madly Deeply.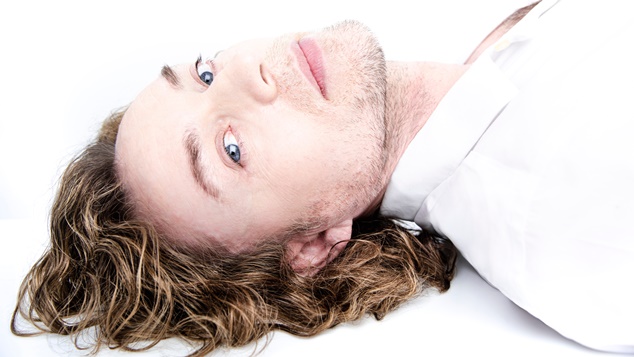 The enthusiastic crowd welcomed the band back to the stage as Hayes and one of the backing singers repeating their phone conversation schtick which saw them declare they'd forgotten to perform Savage Garden's very first hit Want You. The night was closed off with the band's last ever single The Best Thing – the perfect song to close the proceedings. By this stage everyone in the room was on their feet.
It's the first night of the tour and there were a few moments of awkward silence as the musicians transitioned from one part of the show to the next, but these kinks will likely be worked out at subsequent shows. Some of the staged scenes were clunky, and Hayes left the stage too many times for costume changes that were maybe not entirely necessary, and many fans probably wished he chatted to the audience for a moment. Alas there were just a few short comments throughout the night.
Hayes is at the top of his game and his voice is flawless. You can't help but feel this is a show that had big ambitions that were constrained by budgets. Hayes deserves to have a giant stage set, and six backing dancers like Kylie, Gaga, Robbie Williams or his idol Madonna. He deserves a big audience. We can only hope that a follow up to Homosexual comes quickly and Darren Hayes is back to stay.
There is something incredibly fabulous about seeing Darren Hayes at 50, singing up a storm and dancing like Madonna, being proud of his sexuality, and putting it at the forefront his work.
We need more artists like Darren Hayes singing about being a homosexual, we need more singer like Troye Sivan singing My My My and strutting proudly, we need more of Sam Smith swinging from chandeliers in platform shoes.
Darren Hayes' tour is heading to Melbourne, Sydney, Newcastle and Brisbane. 
Graeme Watson, concert images: Duncan Barnes 
---

You can support our work by subscribing to our Patreon
or contributing to our GoFundMe campaign.