Debbie Reynolds remembered as a great friend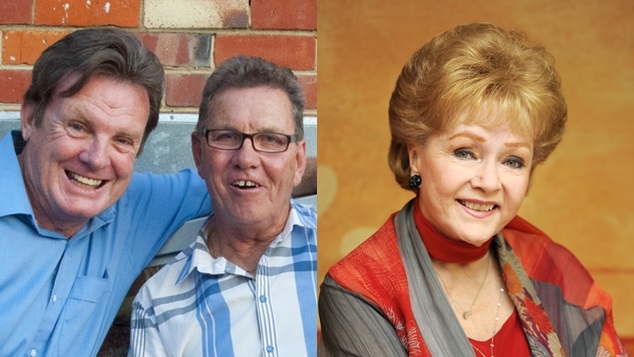 Debbie Reynolds passing has been marked by many friends and colleagues who have highlighted the entertainer's great friendships and positive attitude.
The entertainer passed away aged 84 after suffering a stroke, just days after her 60 year old daughter Carrie Fisher died of a heart attack.
Peter Keogh, who lives in Mandurah, and his partner Sacha Mahboub were great friends with Reynolds. When he was eleven year old Peter wrote a letter to her and she wrote back to him. She asked him to keep in touch and the pair have been friends ever since.
"As an eleven year old I wrote a fan letter to Debbie Reynolds – she answered a few months later and asked me to stay in touch which we did. That was sixty one years ago and over the years our friendship was strengthened when we eventually met and brought her to Australia for 'Irene' in Perth." Keogh told OUTinPerth earlier today.
In 2008 Peter and Sacha produced a concert production of the musical Irene at His Majesty's Theatre. Reynolds had famously played the lead role in a Broadway revival in 1973, but on this occasion she played the role of Irene's mother.
Peter said that Debbie had remained a close friend and remained in regular contact with the couple.
"She was a legend not just as a movie star but as a loyal and loving friend. Her support of everything Sach and I did was constant and her sense of humour was unique and saucy.
"For our birthdays she would send a personal video to us. She never forgot. She lived for her family first and then show business." Peter said.
When Reynolds spoke to OUTinPerth back in 2007 she remarked that Peter was clearly one of her biggest fans.
"When I did a tour in 2006 Peter presented me with all this material, recordings I didn't know I'd made. He had everything I'd ever done, every tape, every album, every show, movie or play." Reynolds told interviewer Terry Larder.
"I was amazed and I was truly flattered that halfway around the world there was such an ardent fan. In fact, with those old and rare recordings he gave me last year, I now use them to open my nightclub act."
During the interview Reynolds said even though she'd spent decades in show business she still loved doing interviews and didn't mind answering questions.
"I don't mind answering questions. My life has been an open book since day one. Since 16, I have been in movies, theatre, plays, I've toured and really I've had a fabulous life of travel and doing different roles. So, I don't have any objections to questions" Reynolds said.
The actress hesitated before adding; "One thing is always asked, 'Are you and Elizabeth (Taylor) still friends?' And the answer is, yes, we are friends, though probably no one believes it. We both laugh about what has happened to our lives and the past and the circumstances that lead up to it. Life goes on, you know!"
The two Hollywood icons feuded when Reynolds husband Eddie Fisher left her for her close friend Taylor. Taylor and Fisher's marriage only lasted a few years and the two friends later buried the hatchet and resumed their friendship.
Back in 2007 Reynolds also told OUTinPerth that she had recently been performing on a gay cruise, and couldn't wait to sign up for another voyage.
"Oh, I had a wonderful time, just wonderful!" Reynolds said, "There were only 25 lesbian couples on board and the rest were all gay boys. They all secretly wanted my dresses, my feather boas. Some not so secretly, they'd take it right off my body! Gay boys have such a great attitude to life and the cruise was a great success. I'd love to do another one."
When Peter Keogh and Sacha Mahboub heard the devastating news that Reynold's daughter Carrie Fisher had passed away they feared the worst for their longtime friend.
"Losing Carrie would have broken her heart. When we toured with her several times a day she and Carrie would talk on the phone – she even gave Carrie notes on her new stage show." Peter said.
"The whole world will miss her however the joy she brought to so many people will live on through her movies. We are proud to have been able to say she was our friend – our hearts ache today."
Terry Larder, Graeme Watson