Desperately Young at Heart gets the shamrock seal of approval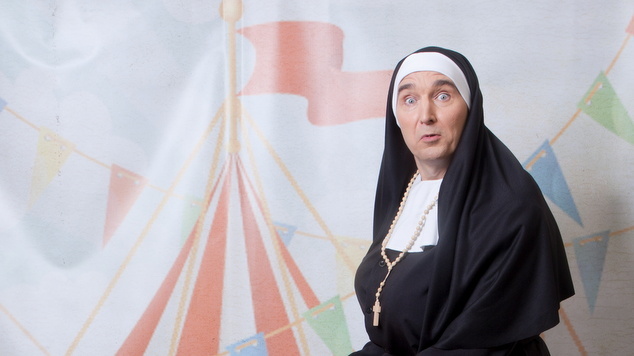 Desperately Young at Heart | Downstairs at the Maj | Jan 27 & 28 | ★ ★ ★ ★ ½
Being from Ireland, and having gone to a Christian Brother's School, I never thought I'd see an Irish nun in a shimmering red sequin dress doing cabaret. But I did. Last night. At the fabulously funny Desperately Young at Heart.
Robert Hofmann, a baritone singer turned Queen of Cabaret, delivered a performance that was superbly witty, well rehearsed and professionally delivered, with the assistance of one 'Amanda Hug', and Tommaso Pollio on piano- whose piano playing could have been a show in itself.
During the performance, Hoffman inhabits multiple personas- each with their own amusing idiosyncrasies. The songs showcase the performer's mastery of innuendo, as he never explicitly says anything saucy, but lets the audience arrive at the punch line by inference, which they did with tumultuous laughter.
After engaging the crowd in an amusing 'kum bay ya' acoustic session, Shaw Penny made her first appearance as 'Amanda Hug', and was immediately hailed by the audience for her comic performance and vocal talent.
I have to admit I can get queasy when I watch a performer attempt an Irish accent, however I have to give Hofmann's take on the Irish accent a big Shamrock sealed mark of approval, and at times the show reminded me of a more divalicious version of the popular sitcom Father Ted.
The music and the laughs even continued while the cast were changing costumes- wonderfully designed by Cherie Hewson, and thus avoided the 'stop-start' feel I sometimes get at other theatre productions.
After the show, the cast were delighted to mingle with the crowd and Hofmann stood at the exit doors, looking like a glorious shimmering red sequined mermaid, and personally shook hands with every member of the audience as they were leaving.
Its only week one of Fringe, but I have a feeling this may be one of my favourites, and if you head down to His Majesty's Theatre this weekend, I suspect it will be one of yours too.
Conor Duggan
Desperately Young at Heart will be Downstairs at the Maj (His Majesty's Theatre) until Saturday January 28th. Tickets and more info available from fringeworld.com.au